Hook face Kilgetty in Under 11s final
THE Pembroke County Cricket Junior League Under 11s final takes place tonight (Jul 22) and will see Hook take on Kilgetty.
Both sides played their respective semi-finals last week which saw Hook beat Llechryd while Kilgetty beat Neyland.
The Under 11s final takes place in Hook and starts at 6pm.
Hook too good for Llechryd
Hook U11s (310-7) beat Llechryd U11s (276-1)
ON a perfect evening in West Wales, both teams played out a tremendous game of cricket and demonstrated excellent skill with bat and ball. Llechryd fielded a young, talented side after skipper Ifan won the toss and decided to have a bowl first.
The decision paid dividends as Ellis took a double-wicket maiden with his first over. He clean bowled the Hook openers, Dylan James (11 runs) with the first ball of the match and followed up with another clean bowled in the same over, dismissing Manny Davies (12 runs), returning figures of 2 for 19 off 2.
Not to be outdone, Flo (1-19) took a wicket with his first ball, before Manny Davies and Dylan James steadied the ship to get Hook back in to positive figures with some excellent stroke play including 6 boundaries between them.
As the dark clouds above looked ominous, this was the calm before the storm. Callum Nutty (7 runs) and Oscar Willington entered proceedings with the later amassing 41 runs off just 15 balls, including five 4s and three 6s – one of the 6s almost landed in the adjacent school playground, a huge hit at any age level of Cricket.
This partnership of 48 runs propelled Hook to a decent total halfway through their innings. Delme (2-11) bowled exceptionally well, with disciplined line and length, pressuring the Hook batsmen into a second run that was almost on, until some sharp fielding by Llechryd denied them.
Delme gathered the ball well from the throw and took the bails off with ease.
It should be mentioned at this point that all the Llechryd players fielded tremendously well with some excellent ground fielding, taking their catches and backing-up making sure any wayward throws were gathered.
With the scoreboard ticking over nicely, William Harries (23) and Dylan Goodridge (6) kept the momentum up, adding 35 runs between them. William Harries in fine form once again, nudged the ball into the gaps for three 4s, before effortlessly placing the ball straight down the ground for a maximum.
Dexter kept nagging away at off-stump and eventually got his reward, bowling Harries off the last ball of his over, returning figures of 1 for 18 off 2. A quick change of personnel behind the stumps, saw Ifan have a bowl at the last pair of Hook batsmen.
Ifan bowled with a lot of skill and excellent technique, only allowing the batsmen to nudge him for a few singles and one boundary in his spell of 1 for 7 off 2. Jack Thomas (3) and Rhys Phelps (16) added 13 vital runs at the end as Llechryd picked up 2 wickets, with Delme once again showing his class by bowling Thomas with the last ball of the innings.
The Llechryd openers, comprising of Ifan (8) and Japp (14) got off to a flyer, adding 21 off their first 4 overs. Oscar Willington bowled with excellent control and pace, taking the only wicket of the Llechryd innings, returning figures of 1 for 4 off 2.
Ellis (4) and Delme continued to build on the great start and between them added 27 vital runs, with the later scoring 20 runs, including four 4s. At the halfway stage of the Llechryd innings they were on track to pass Hooks final score.
However, although no wickets fell, the Hook bowling trio of Rhys Phelps, Jack Thomas and Dylan Goodridge bowled with discipline and control, only allowing 17 runs during the third pairing. Evan (9) and Dexter (3) played with a straight bat and defended their wickets well.
With the batting side requiring 46 runs to win from the final pair, once again the Hook bowlers showed a lot of mettle, restricting Llechryd to just 11 runs from 4 overs. Callum Nutty bowled the innings only maiden over with some recently acquired wrist spin deliveries (obviously doesn't get that from his Dad!) and once again Jack Thomas bowled superbly well going for 1 run off the penultimate over of the match.
It was down to Manny Davies, the youngest player in the Hook team to bowl the final over. He grasped the responsibility with both hands and showed real maturity to get the job done. The last pair of Flo (4) and Osian (7) fought to the end, defended their wickets well, but eventually came up short of the total.
Llechryd demonstrated that they are certainly a team to watch out for over the next few seasons with so many young talented players coming through.
Credit to Jonny Lewis for his coaching efforts and it was a pleasure to be part of such a great game of cricket played in great spirit.
The players even enjoyed homemade cakes, biscuits, cookies and gallons of squash at halftime.
Good luck to Hook in the Final, who will be looking to right a few wrongs after losing out to Lawrenny last season.
Well done to all involved with Junior Cricket this season in Pembrokeshire, without dedicated volunteers the kids would not have all these fantastic opportunities to express themselves through the medium of sport.
Kilgetty hold off Neyland
Kilgetty 265-5 beat Neyland 211-4
A SUNNY evening at Kilgetty Cricket Club was the perfect venue for Monday's under 11's semi-final between the home team, Kilgetty, and their visitors Neyland, in a sixteen over match.
Kilgetty came into the game full of confidence having won all six of their group games and started well with Kiaran and Lewis hitting 13 runs off the opening two overs. Neyland fought back hard though, and some accurate bowling saw them take five quick wickets to leave Kilgetty with a disappointing total of 221 at the halfway stage.
Euan and Morgan took the field next and steadied the ship by adding another 15 runs with no further losses.
Then a hugely important last pairing saw Madoc snatch lots of quick singles whilst Logan went for the boundary with a series of powerful strikes. The result was an extra 29 runs in four overs giving Kilgetty a very respectable total of 265.
After a short break and a well-earned burger from the barbecue, both teams took to the field again. Neyland began with a couple of strong pairings and quickly piled on the runs.
Euan took one wicket and Morgan grabbed two more to peg them back slightly but after nine overs Neyland were on 245 and well ahead of where Kilgetty had been at the same stage.
The visitors score could have been even higher had it not been for some excellent wicket keeping from Dylan who kept the run rate down, refusing to let a ball get past his gloves.
Then, just as the large crowd of home supporters were starting to fear the worst, a fabulous spell of bowling from Jamie and Kiaran saw the game turn on its head. A stunning five wicket haul in three overs left Neyland in disarray as the Kilgetty boys leaped around the field in joy.
From that point on there was only going to be one winner and Kilgetty produced a ruthless finish. Logan dismissed three opponents in a single over and Kiaran and Jamie picked up a couple more to finish things off in style and secure a win by 54 runs.
Overall it was a fabulous team effort and Kilgetty take a deserved place in the final.
Penybont secure Championship conference place
PENYBONT secured their place in the Championship Conference for the second phase of the JD Cymru Premier after they beat Haverfordwest County on Friday (Apr 2).
Manager Rhys Griffiths will have been delighted with his side, who, prior to Friday's game, had already gained 11 more points this season than they had in the entirety of the 2019/20 season.
Ahead of the game, Haverfordwest knew they needed to win to stand a chance of moving into the top six.
A County win, coupled with a defeat for Caernarfon Town, could have seen them sneak into sixth place but it wasn't to be for Wayne Jones' men.
The Bont applied the pressure early on but were unable to test County keeper Matthew Turner.
There was concern for Turner shortly before the half hour mark as he claimed the ball but fell awkwardly under the challenge of Kane Owen.
After receiving treatment he was taken off to be replaced by Wojciech Gajda.
With 45 minutes on the clock the Bont had a corner which Owen floated in and it was Sam Snaith who got his head to it to score despite the best efforts of Gajda.
It was a big blow to the Bluebirds who would have hoped to have been level at the break.
Three minutes into the second half, Ben Fawcett forced his way through but his effort was blocked by the Bont defender.
On 53 minutes, the ball was played into the box from a free kick and sent back across goal to Snaith. He took one touch to flick the ball up in the air and acrobatically shoot towards goal but Gajda made an excellent save to keep his side in the game.
Five minutes later, the Bont doubled their lead as the ball was played to Mael Davies who sent a low driven shot into the bottom left corner of the net.
Sub Marcus Griffiths had an effort for the visitors but his shot towards the bottom left corner was tame and keeper Morris made a comfortable save.
With just over fifteen minutes to go, the ball was played forward for Fawcett but he couldn't get enough power on his shot and saw his effort saved by the Bont keeper.
The Bluebirds won a series of corners with seven minutes remaining but they were unable to get an effort in as the Bont defended well.
As the clock ticked towards the 90, the Bluebirds' task of scoring three goals to win the game became increasingly unlikely.
The Bont saw the game out to seal the win and they can now look forward to the second phase of the season in the Championship conference.
Pitch bookings for organised under 18s outdoor activity resume
PEMBROKESHIRE COUNTY COUNCIL is now able to accept outdoor pitch bookings for organised children's outdoor activity.
It follows the Welsh Government allowing U18 organised sporting activity to resume.
All Council outdoor pitches are now taking bookings and the council is inviting all junior clubs to get in touch and to book their space.
Whatever your team sport, as long as you are delivering organised sports sessions for children, activities are fully risk assessed and you follow the safety guidelines specified by your sport's governing body, the council is open and ready to welcome you back.
For more information, to make your booking and to get started please email leisureadmin@pembrokeshire.gov.uk with your club name, the sport you will be training for, the number of players who will be attending along with the days and times you would like to book for.
Please also add your name and contact details along with the space you will be booking and, importantly, the leisure centre you wish to book for.
Further news on facility re-opening will be released as it happens. Check www.pembrokeshireleisure.co.uk and follow Pembrokeshire Leisure on Facebook for updates, news and ways to keep yourself healthy.
A 48-7 victory over Italy leaves Wales a win from the Grand Slam
IT was always going to be a tough game for the Italian side, but now it is official, Wales are one win away from the Grand Slam!
Wales scored seven tries through Josh Adams, Taulupe Faletau, Ken Owens (2), George North, Callum Sheedy and Louis Rees-Zammit as they secured a comfortable Six Nations win in Rome.
The unbeaten tournament leaders reeled off a third successive bonus-point victory to increase pressure on their rivals for silverware. Italy meanwhile are staring down the barrel at another Wooden Spoon – they haven't won a Six Nations match since 2015.
STILL A BIT OF WORK TO DO
The Welsh captain, Alun Wyn Jones, who is just one win away from winning his fourth Six Nations Grand Slam told S4C: "We were pretty clinical, particularly in the first half.
"We're a tad frustrated with the second half but it's a case of job done and plenty to work on.
"The excitement I feel every time I pull on this red jersey is insurmountable, so I'm looking forward to getting back to it on Monday and preparing for next weekend."
Jones added: "It's job done, but there's still a bit to work on."
Another heavy defeat will again raise the inevitable questions about Italy's position in the Six Nations and whether there should be relegation.
The facts speak for themselves.
Today marked a 31st successive defeat for the Azzurri in the competition, with their last victory coming against Scotland in 2015.
Italy have not managed a home Six Nations win for eight years, with 20 successive losses.
Italy have conceded 187 points and 26 tries in four games this year.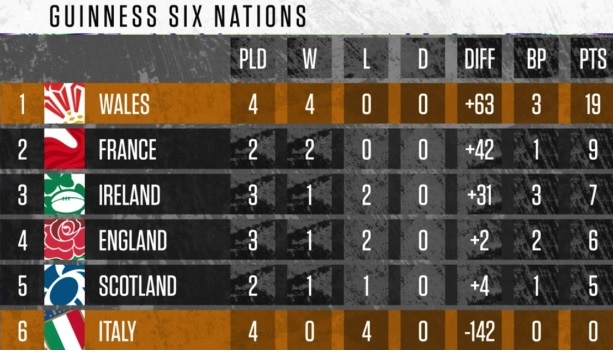 Line-ups
Italy: Trulla, Bellini, Brex, Canna, Ioane, Garbisi, Varney; Fischetti, Bigi (capt), Zilocchi, Cannone, Sisi, Negri, Meyer, Lamaro.
Replacements: Fabiani for Ioane (7-18), Lovotti for Fischetti (65) Riccioni for Zilocchi (33), Lazzaroni for Cannone (52), Mbanda for Meyer (26-36), Violi for Varney (63), Mori for Garbisi (54) Padovani for Trulla (44).
Wales: L Williams; Rees-Zammit, North, J Davies, Adams; Biggar, G Davies; W Jones, Owens, Tomas Francis, Hill, AW Jones (capt), Navidi, Tipuric, Faletau.
Replacements: Dee for Owens (54), Carre for W Jones (57), Brown for Francis (45), Ball for AW Jones (54), Wainwright for Faletau (51), L Williams for G Davies (52), Sheedy for Biggar (52), Halaholo for North (46)
Match officials
Referee: Wayne Barnes (England)
Touch judges: Pascal Gauzere (France) & Christophe Ridley (England)
TMO: Tom Foley (England)
MATCH ANALYSIS
Surely it was discipline that was the main problem for Italy.
Mistakes and an incredible ability to give away stupid penalties, as a series of needless errors allowed the visitors to build an insurmountable lead early on.
It all started with Paolo Garbisi sending the ball dead from the kick-off before Luca Bigi infringed at the breakdown. The captain then cynically stopped a Gareth Davies quick tap and was duly yellow carded. Against 14 men, Wales built up an advantage they would not relinquish as the visitors won the game before it had really started. It was not a good example from the skipper and is symptomatic of where the Italians are currently at.
Arguably since before the 2017 British and Irish Lions tour, the back has struggled for form, leading many to question whether that was it for the Welsh centurion. Although he is only 28, it must be remembered that North has been around at the top level for a long time and there is only so much the body can take in modern day rugby. However, the move into the midfield seems to have given him a new lease of life.
To the surprise of many, Callum Sheedy did not start against Italy after his superb performance versus England. Instead, it was the much criticised Dan Biggar who continued at fly-half and produced a significantly improved display before giving way to the Bristol playmaker in the second period. Sheedy was also excellent when he came on and it leaves Wayne Pivac with a decision to make going forward. No doubt, Biggar will start next week against France – albeit the head coach is not afraid of making a big call – but the 25-year-old is certainly not far off the first XV.
Much has been said and written about the Azzurri's continued presence in the Six Nations and based on the evidence in this fixture, they really shouldn't be playing in a competition of this stature. Franco Smith's charges were never at the races with Wales racing into a 22-0 lead midway through the half without really breaking a sweat. Italy hardly threatened on attack – especially during the first half – and it looked like it was a case of men against boys for large periods of this Test. The result means they have now lost 31 matches on the trot, which is the longest losing streak in the history of the Championship, and they last tasted victory in a Round Three clash against Scotland in 2015. The time is now ripe for tournament organisers to reconsider their participation.
Although Italy were never in this encounter, Wales deserve plenty of credit as they impressed for the entire game and made full use of the opportunities which were presented to them.
Pivac will be delighted with the clinical fashion with which his players went about their business and they had their bonus point in the bag by the half-hour mark after Josh Adams, Taulupe Faletau and Ken Owens (2) crossed for tries. Despite leading 27-0 at the interval, Wales did not take their foot of the pedal with North also crossing the whitewash soon after the restart and although Monty Ioane scored a try for the hosts, that was a mere blip as Wales continued to dominate and sealed their win with five-pointers from Sheedy and Louis Rees-Zammit.