Protest against 'draconian' Police and Crime Bill takes place in Haverfordwest
A SECOND Kill the Bill protest took place in Haverfordwest on Saturday (Apr 17).
One of the organisers told  The Herald: "The new law will be an enormous piece of draconian legislation that includes significant expansion in police powers to curtail the right to protest. The right to peacefully assemble and protest are a fundamental part of any democracy; empowering people to have their voices heard, in addition to holding the Government to account. These rights are universal –they protect peaceful and legitimate protest whatever the cause."The events at the Clapham vigil and at demonstrations over the last few weeks are a dangerous indication of what the future of protest will look like if the police powers bill gets through parliament."
A local campaigner, a mother and grandmother said "We are in the process of losing a fundamental part of our democracy, It is important we protect it for future generations. We have messed up so much of their future already-we need to hold the Government to account".
Aspects of the Bill include:
The power for Police forces to shut down protests that they deem too disruptive at their own discretion.
Up to a 10-year sentence for demonstrators considered to be causing a "public nuisance".
The power for police forces to impose start and end times on static protests of any size.
The power to expand stop and search powers, which already discriminate against marginalised communities. If you live in the Dyfed Powys police area, you are 5 times more likely to be stopped and searched if you are black than white.
Up to 10-year sentences for damage to public monuments' Police powers will be expanded and custodial sentences increased to "protect" women.
These measures are not sufficient to prevent violence and are troubling, considering some police officers' involvement in cases of violence against women. Significant restrictions on where protests around Parliament may take place.
The elevation of trespass from a civil offence to a criminal offence, meaning police and courts can give harsh sentences to Travellers.
Increased power of police to seize vehicles and homes from Gypsy, Roma, and Traveller communities and demanding proof of permission to travel.
The bill will criminalise a way of life for these communities.
Some of the proposals in the new bill which is the subject of the protest include putting start and finish times on protests, as well as noise limits. The bill also says damage to memorials could lead to up to 10 years in prison. The bill could also expand stop-and-search powers and includes an offence of "intentionally or recklessly causing public nuisance," which is designed to stop people occupying public spaces and doing things like hanging off bridges or gluing themselves to windows.
The bill will be reintroduced to Parliament after the Queen's Speech, according to the Home Office, with Commons Committee Stage expected to be completed by 24 June.
"The Police, Crime, Sentencing and Courts Bill delivers on the government's commitment to crack down on crime and build safer communities," a Home Office spokesperson says. "We are equipping the police with the tools they need to stop violent criminals in their tracks." They add that the bill "enshrines our commitment to those brave officers who put themselves in danger to keep rest of us safe into law".
One protestor told Herald.Wales: "People are getting more angry and more frustrated and they feel like their issues are not being dealt with – but are rather just simply being cracked down on.
"And that is the wrong approach. People are still going to take to the streets and be even more passionate."
Protests – a senior police officer's view
A police boss who describes himself as an "experienced protester" says a report on how protests are policed is one sided, illiberal and undermines civil and political rights.
North Wales Police and Crime Commissioner Arfon Jones is so concerned that he has written to Home Secretary Priti Patel to complain about it.
The UK Government used the report by Her Majesty's Inspectorate of Constabulary, Fire and Rescue Service (HMICFRS),"Getting the balance right?, when they were drafting the controversial Police, Crime, Sentencing and Courts Bill.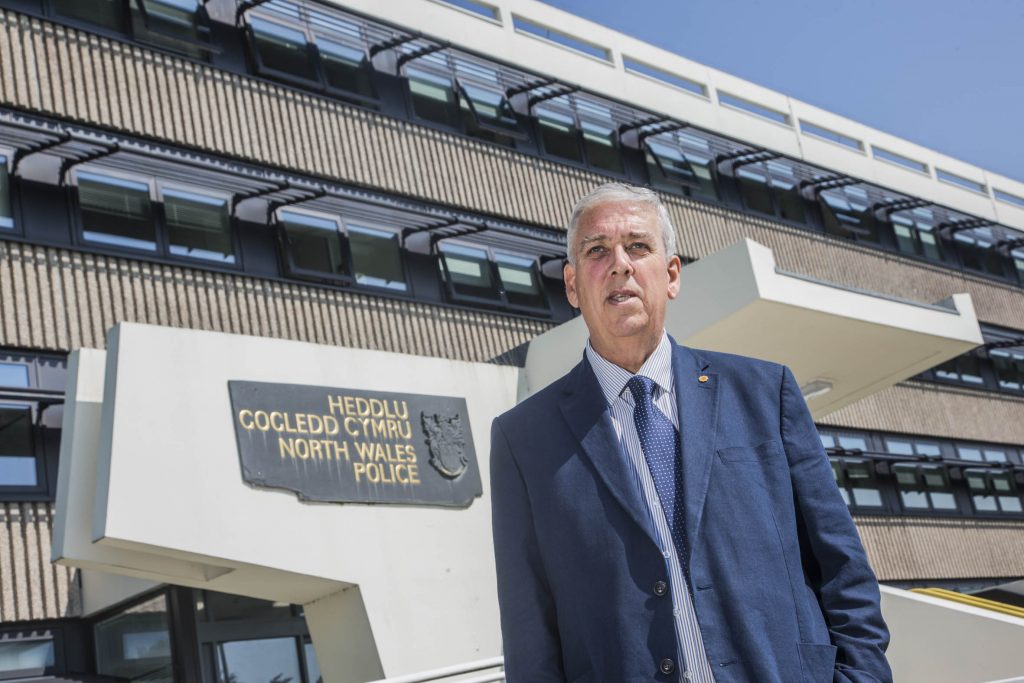 According to the inspectors, the balance had tipped too heavily in favour of protesters.
The legislation will give the police powers to set start and end times for static protests and stop protests if they are judged to be too noisy or too "disruptive".
Protesters face fines of up to £2,500 and up to 10 years in jail if they are convicted.
Mr Jones, a former police inspector, said: "Although equilibrium should be struck between individual rights to protest and the general interests of the community, I simply do not agree the balance tips too readily in favour of protestors.
"The recommendations in the report are one sided, illiberal and undermine civil and political rights and are not in the public interest.
"The new powers in the proposed act are not necessary and will prevent protest as we know today. The whole purpose of protest is to disrupt and to seek change.
"The police have enough powers to police protests and do not need more. I do not believe that HMICFRS have the balance right in this report and as an *experienced* protestor for the last 50 years the perception that police are favourable towards protestors rights is a fallacy.
"Policing protests has always been, and always will be, a tool of the state to control its citizens and I will have no truck with it.
"Automatic Facial Recognition in non-violent protests is a privacy intrusion and should not be used.
"Non-violent protests should be policed as events not as a public order exercise.
"The Police, Crime, Sentencing and Courts Bill will afford new powers to officers to tackle protests, including measures aimed at static protests and a new offence of 'intentionally or recklessly causing public nuisance', which is in part defined as causing 'serious annoyance' or 'serious inconvenience'.
"In a democracy the right to protest sometimes means people are inconvenienced, such is the price of living in a society where voicing support for a cause of your choosing is permitted. "These proposals seek to whittle that right down to such a degree that any demonstration, large or small, may be heavily restricted or even curtailed altogether. The effect on free expression will be substantial.
"The report is short-term and politically driven. Policing should be very careful not to be drawn into the situation of being arbiters of which protests can go ahead and become stuck in the middle.
"The policing of industrial action in the 1970s reminds us that policing protests may cause long-term damage on the relationships between community and police.
"The United Kingdom and its people have been through a very difficult year, with exceptional Covid-19 restrictions coming to an end as the pandemic recedes.
"This is a time for reflection and consideration, not a time to be rushing through poorly thought out measures to impose disproportionate controls on free expression.
"Such laws may shield ministers and corporations from public dissent, but who would wish to live in a society where such matters are guiding principles of legislation?"
Return of Walk and Talk group for Dementia Action Week
THE PEMBROKESHIRE Walk and Talk Group will make its return next week, coinciding with Dementia Action Week which runs from May 17-24.
Several events are being held across Pembrokeshire and the UK and PAVS has announced two Walk and Talk sessions.
One will be held in the South of the County in Begelly on Wednesday, May 19, and one in the North of the County in Newport on Thursday, May 20.
Walk and Talk is a dementia supportive group. The group provides the opportunity to socialise, improve your physical and mental wellbeing and at the same time enjoy the wonderful Pembrokeshire scenery. There will be walk and talk groups every week starting from next week.
Places are limited and will be on a first come first served basis, to book a place on these walks please contact Cherry Evans on 07849 086009 or email cherry.evans@pavs.org.uk
Dementia Action Week aims to promote and make people aware that with the right support, people living with dementia can live a good quality of life doing what matters most to them for as long as possible.
One in fourteen people over the age of 65 are living with Dementia and approximately 42,000 people in Wales have Dementia. 65% of people living with dementia are women and 35% men
The covid-19 pandemic meant that many groups and clubs had to shut down and that has made things difficult for those people living with dementia.
People were left isolated and feeling lonely but thanks to modern technology they have been able to keep many in contact with those groups and their loved ones.
Throughout Dementia Action Week there will be daily interviews on the radio station Pure West Radio with lots of information about the activities and points of reference for support across Pembrokeshire.
These daily interviews will cover everything from diagnosing dementia, support, carers perspectives and even the power of music. You can listen to these each day at 11.15am Monday to Friday and at 2.15pm on Saturday and Sunday
If you fancy trying out a 'tea and natter' session on Zoom on Tuesday, May 18, at 2.30pm please contact Cherry Evans on 07849 086009 or email cherry.evans@pavs.org.uk
Cllr Mike James is new Chairman of Pembrokeshire County Council
PEMBROKESHIRE COUNTY COUNCIL has a new Chairman.
Cllr Mike James became Chairman at the virtual Annual Meeting of Council today (Friday, May 14) following an extended period as Vice Chairman due to the Covid-19 situation.
Cllr James, who represents St Dogmaels, moves into the Chairman's seat vacated by Cllr Simon Hancock.
Cllr Pat Davies was appointed Vice-Chairman of Pembrokeshire County Council.
At the same meeting Cllr Hancock was appointed Presiding Member for the coming year.
Cllr James joined Pembrokeshire County Council in 2010 and has previously served as Chairman of Pembrokeshire Coast National Park Authority and Chairman of National Park Wales.
Cllr James said: "I feel very privileged to be appointed Chairman of Pembrokeshire County Council.
"I always try to achieve the best in my life and this is right up there at the top.
"I hope I can achieve the high standard set by Councillors who have been Chairman before me. Councillor Simon Hancock most certainly accomplished that standard."
Cllr James is married to Sian and they have two daughters, Fern James and Rhiannon Lloyd.
Born and bred in St Dogmaels, Cllr James attended Ysgol Llandudoch and Ysgol Uwchradd Aberteifi.
He worked for 32 years at Slimma/Dewhirst Cardigan and for four years as an LSA in Ysgol Gyfun Emlyn.
Cllr James has also served as Clerk to St Dogmaels Community Council, as the Carers Champion for Pembrokeshire County Council and as a representative on numerous other committees and sub-committees.
A member of Cardigan Rugby Club Male Voice Choir, Cllr James also sits on the Dyfed-Powys Police and Crime Panel.
Cllr James added: "The last 14 months have not been easy for many people. I hope there is a light at the end of a long tunnel where we can meet and speak to loved ones again.
"I am a people's person and I hope, if I am allowed, to have the opportunity to meet and talk to as many residents in Pembrokeshire as possible."
New international travel rules for Wales confirmed by First Minister
International travel will restart for people in Wales from Monday 17 May, the Welsh Government has confirmed today.
As part of changes to Wales' coronavirus regulations, people living in Wales will be able to travel to some overseas destinations without the need to quarantine on their return.
But additional safeguards will be put in place to help prevent new cases of coronavirus being imported into Wales.
A traffic lights system, aligned with England and Scotland, will be introduced. Countries will be classified as green, amber and red, depending on their rates of coronavirus.
Mandatory quarantine is in place for all people returning to the UK from countries on the amber and red lists. All people returning from overseas travel must have a PCR test.
First Minister Mark Drakeford said:
"Wales, like other parts of the UK, will be restarting international travel. But protecting people's health continues to be our top priority and we want to do everything we can to prevent coronavirus from being re-imported into Wales.
"This will not be like travel in the past. Everyone travelling abroad will have to have a test when they come home and for many people, they will need to quarantine when they get home. There are significant fines in place for those who do not follow the legal requirements.
"Some countries are not yet opening up travel to people from the UK. It's my strong advice that this is the year to stay at home and enjoy all that Wales has to offer."
Under the international travel rules:
• People arriving from green-list countries are not required to quarantine on their return to Wales, but they must book and pay for a mandatory PCR test on or before day two of their return. All travellers and members of their household will also be reminded about the availability of additional lateral flow tests to continue to monitor their health.
• People arriving from amber-list countries are required to quarantine for 10 days at home on their return. This is a legal requirement. They are also required to book and pay for mandatory PCR tests on day two and on day eight. Unlike in England, Wales does not operate a test-to-release scheme where an additional test can be taken on day five to reduce the period of quarantine. This is because some 30% of people who develop Covid-19 do so after day five.
• People arriving from countries on the red list are required to quarantine for a full 10 days on arrival in the UK at a designated UK port in a government-managed facility – a 'covid hotel' – at their own cost, starting from £1,750 per person. All UK entry points for arrivals from red-list countries are in England and Scotland, which means Welsh residents returning from those countries will need to quarantine outside Wales. Travellers are also required to book and pay for mandatory PCR tests on day two and day eight.
All those who do not follow the rules for red-list countries face fixed notice penalties of £10,000.
Welsh residents must also consult the requirements for visitors for any country they plan to travel to. Restrictions may be in place, including proof of vaccination, tests, quarantine and reasons for entry.
Vaccination status certificates will be available for people in Wales who have had two doses of their vaccination and need to urgently travel to a country that requires covid vaccination proof from Monday 24 May.
The First Minister added:
"We call on people to think about whether they need to travel overseas at this time. We should be cautious about going abroad in light of the ongoing risk of coronavirus and the presence of variants of concern in many countries.
"My clear message to everyone is make Wales your destination of choice this year."