Rhaid Tai yn cael ei benderfynu yn lleol
MAE SWYDDOGION iechyd blaenllaw yng Nghymru wedi gwneud galwad frys ar rieni plant dwy, tair a phedair oed i drefnu fod eu plant yn cael eu brechu rhag ffl iw, gan mai un o bob pump yn unig o'r rhai sy'n gymwys sydd wedi cael eu brechu hyd yn hyn. Mae rhai rhieni'n credu nad yw ffl iw yn cael effaith ddifrifol ar eu plant. Fodd bynnag, mae ffi gyrau a gasglwyd gan Iechyd Cyhoeddus Cymru yn dangos, y llynedd, y cafodd cymaint o blant ag o oedolion eu derbyn i'r ysbyty ac unedau gofal dwys.
Cafodd cyfanswm o 42 o blant dan 15 oed eu derbyn i'r ysbyty yng Nghymru dros y gaeaf y llynedd, ac roedd chwech ohonynt wedi gorfod cael gofal dwys. Ar gyfer unigolion 15 oed a throsodd cafodd 42 eu derbyn ac roedd angen gofal dwys ar chwech ohonynt. Dros y gaeaf y llynedd lefelau isel yn unig o ffl iw fu'n cylchredeg yn y gymuned. Mae rhaglen imiwneiddio rhag ffl iw eleni yn cynnig chwistrell trwyn syml i ddiogelu plant ifanc ond nid yw ond yn effeithiol cyn i'r salwch daro. Mae'r brechlyn rhad ac am ddim ar gael gan eich meddyg teulu ar hyn o bryd, ond mae dyddiad dod i ben yr holl stoc ar ddechrau Ionawr – sy'n golygu fod amser yn mynd yn brin i ddiogelu eich plentyn.
Yn ôl yr ystadegau diweddaraf, dim ond un o bob pump o'r 97,655 plentyn dwy, tair a phedair oed sy'n gymwys gafodd eu himiwneiddio hyd yn hyn yng Nghymru – cwta 22%.* Mae Dr Zed Sibanda, paediatregydd ymgynghorol yn Ysbyty Brenhinol Morgannwg yn esbonio pam mae hyn yn bryder: "Bydd y brechlyn ffl iw chwistrell trwyn ar gyfer plant dwy i bedair oed yn dechrau dod i ben ynghanol Rhagfyr, felly dylai rhieni sydd heb drefnu i'w plant gael eu brechu eto weithredu yn syth.
Mae plant dwy, tair a phedair oed yn wynebu risg arbennig o ddatblygu cymhlethdodau difrifol ffl iw am nifer o resymau. Un ohonynt yw nad yw eu systemau imiwnedd wedi datblygu'n llawn eto, sy'n golygu na allant ymladd ffl iw cystal â phlant hŷn ac oedolion." I'r rhan fwyaf o blant iach, mae ffl iw fel arfer yn golygu ychydig ddyddiau difl as gartref yn y gwely, ond dylai rhieni gofi o y gall ffl iw arwain weithiau at gymhlethdodau difrifol, yn enwedig felly i blant ifanc neu bobl a chanddynt broblemau iechyd hirdymor, fel asthma, ac i grwpiau felly gall beryglu eu bywydau.
Fel yr esbonia Dr Sibanda: "Nid yw plant ifanc yn gallu deall ac esbonio os ydynt yn dechrau cael symptomau tebyg i ffl iw – sy'n golygu efallai na wneir diagnosis ffl iw tan yn gymharol hwyr o gymharu ag oedolyn fyddai'n gallu asesu eu hiechyd eu hunain yn rhwyddach. "Golyga hynny fod y plentyn yn fwy tebygol o ddatblygu cymhlethdodau posib ac o ddioddef yn ddiangen. Ond gellir rhwystro hyn oll trwy un daith syml at y meddyg teulu i gael y brechiad chwistrell trwyn."
Mae Dr Richard Roberts, Pennaeth Rhaglen Heintiau y Gellir eu Hatal trwy Frechlyn yn Iechyd Cyhoeddus Cymru, hefyd yn annog pob rhiant i fynd â'u plant dwy i bedair oed at y meddyg teulu cyn gynted â phosib: "Cynigir y brechiad ar ffurf chwistrell trwyn ar gyfer y rhan fwyaf o blant, sy'n golygu nad oes unrhyw bigiadau. Mae'n gyfl ym, syml ac yn gwbl ddi boen: "Hyd yn oed os yw trwyn plentyn yn rhedeg neu os yw'n tisian yn syth ar ôl cael y chwistrell, fe fyddant wedi'u diogelu o hyd."
Hon yw'r fl wyddyn gyntaf i blant pedair oed gael eu cynnwys yn yr ymgyrch brechu rhag ffl iw dymhorol rad ac am ddim, wedi i blant dwy a thair oed gael eu cyfl wyno y llynedd. Mae hyn yn rhan o raglen fl ynyddol, a'r disgwyl ar ôl ei chyfl wyno'n llawn yw y bydd pob plentyn dwy i un ar bymtheg oed yn cael cynnig y brechlyn bob hydref. Mae hyn ar ben y grwpiau cymwys eraill fel pobl 65 oed a throsodd, pobl mewn grwpiau 'risg' o chwe mis ymlaen a chanddynt gyfl yrau iechyd hirdymor, a phob menyw feichiog.
Bob blwyddyn mae'r brechlyn rhag ffl iw yn cael ei newid er mwyn ymateb i unrhyw fathau newydd o'r fi rws ffl iw sy'n cylchredeg. Caiff fi rws y ffl iw ei wasgaru trwy ddiferion sy'n cael eu chwistrellu i'r awyr pan mae person sydd wedi'i heintio yn pesychu neu'n tisian. Mae cyswllt uniongyrchol â dwylo neu arwynebau a heintiwyd hefyd yn gallu gwasgaru'r haint. Gall ledu'n gyfl ym iawn, yn enwedig felly mewn cymunedau caeedig fel ysbytai, cartrefi preswyl ac, wrth gwrs, grwpiau chwarae.
Mae'r rhaglen brechiadau ffl iw fl ynyddol yn ceisio sicrhau bod pawb sydd ei angen yn cael amddiffyniad am ddim bob blwyddyn rhag y ffl iw. Y rheswm yw diogelu unigolion bregus a phobl sy'n wynebu'r risg mwyaf o ddioddef cymhlethdodau difrifol ffl iw. Bob blwyddyn, mae'r pigiad ffl iw ar gael yn rhad ac am ddim i'r grwpiau hyn trwy feddygon teulu a rhai fferyllfeydd cymunedol, ac mae'r rhan fwyaf o blant cymwys yn cael brechlyn chwistrell trwyn gan eu meddyg teulu neu yn yr ysgol os ydynt ym mlwyddyn 7.
Penybont secure Championship conference place
PENYBONT secured their place in the Championship Conference for the second phase of the JD Cymru Premier after they beat Haverfordwest County on Friday (Apr 2).
Manager Rhys Griffiths will have been delighted with his side, who, prior to Friday's game, had already gained 11 more points this season than they had in the entirety of the 2019/20 season.
Ahead of the game, Haverfordwest knew they needed to win to stand a chance of moving into the top six.
A County win, coupled with a defeat for Caernarfon Town, could have seen them sneak into sixth place but it wasn't to be for Wayne Jones' men.
The Bont applied the pressure early on but were unable to test County keeper Matthew Turner.
There was concern for Turner shortly before the half hour mark as he claimed the ball but fell awkwardly under the challenge of Kane Owen.
After receiving treatment he was taken off to be replaced by Wojciech Gajda.
With 45 minutes on the clock the Bont had a corner which Owen floated in and it was Sam Snaith who got his head to it to score despite the best efforts of Gajda.
It was a big blow to the Bluebirds who would have hoped to have been level at the break.
Three minutes into the second half, Ben Fawcett forced his way through but his effort was blocked by the Bont defender.
On 53 minutes, the ball was played into the box from a free kick and sent back across goal to Snaith. He took one touch to flick the ball up in the air and acrobatically shoot towards goal but Gajda made an excellent save to keep his side in the game.
Five minutes later, the Bont doubled their lead as the ball was played to Mael Davies who sent a low driven shot into the bottom left corner of the net.
Sub Marcus Griffiths had an effort for the visitors but his shot towards the bottom left corner was tame and keeper Morris made a comfortable save.
With just over fifteen minutes to go, the ball was played forward for Fawcett but he couldn't get enough power on his shot and saw his effort saved by the Bont keeper.
The Bluebirds won a series of corners with seven minutes remaining but they were unable to get an effort in as the Bont defended well.
As the clock ticked towards the 90, the Bluebirds' task of scoring three goals to win the game became increasingly unlikely.
The Bont saw the game out to seal the win and they can now look forward to the second phase of the season in the Championship conference.
Pitch bookings for organised under 18s outdoor activity resume
PEMBROKESHIRE COUNTY COUNCIL is now able to accept outdoor pitch bookings for organised children's outdoor activity.
It follows the Welsh Government allowing U18 organised sporting activity to resume.
All Council outdoor pitches are now taking bookings and the council is inviting all junior clubs to get in touch and to book their space.
Whatever your team sport, as long as you are delivering organised sports sessions for children, activities are fully risk assessed and you follow the safety guidelines specified by your sport's governing body, the council is open and ready to welcome you back.
For more information, to make your booking and to get started please email leisureadmin@pembrokeshire.gov.uk with your club name, the sport you will be training for, the number of players who will be attending along with the days and times you would like to book for.
Please also add your name and contact details along with the space you will be booking and, importantly, the leisure centre you wish to book for.
Further news on facility re-opening will be released as it happens. Check www.pembrokeshireleisure.co.uk and follow Pembrokeshire Leisure on Facebook for updates, news and ways to keep yourself healthy.
A 48-7 victory over Italy leaves Wales a win from the Grand Slam
IT was always going to be a tough game for the Italian side, but now it is official, Wales are one win away from the Grand Slam!
Wales scored seven tries through Josh Adams, Taulupe Faletau, Ken Owens (2), George North, Callum Sheedy and Louis Rees-Zammit as they secured a comfortable Six Nations win in Rome.
The unbeaten tournament leaders reeled off a third successive bonus-point victory to increase pressure on their rivals for silverware. Italy meanwhile are staring down the barrel at another Wooden Spoon – they haven't won a Six Nations match since 2015.
STILL A BIT OF WORK TO DO
The Welsh captain, Alun Wyn Jones, who is just one win away from winning his fourth Six Nations Grand Slam told S4C: "We were pretty clinical, particularly in the first half.
"We're a tad frustrated with the second half but it's a case of job done and plenty to work on.
"The excitement I feel every time I pull on this red jersey is insurmountable, so I'm looking forward to getting back to it on Monday and preparing for next weekend."
Jones added: "It's job done, but there's still a bit to work on."
Another heavy defeat will again raise the inevitable questions about Italy's position in the Six Nations and whether there should be relegation.
The facts speak for themselves.
Today marked a 31st successive defeat for the Azzurri in the competition, with their last victory coming against Scotland in 2015.
Italy have not managed a home Six Nations win for eight years, with 20 successive losses.
Italy have conceded 187 points and 26 tries in four games this year.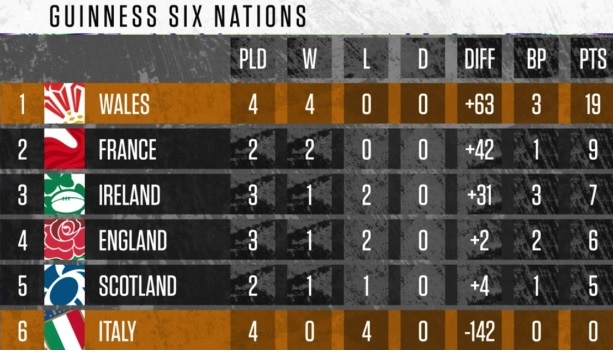 Line-ups
Italy: Trulla, Bellini, Brex, Canna, Ioane, Garbisi, Varney; Fischetti, Bigi (capt), Zilocchi, Cannone, Sisi, Negri, Meyer, Lamaro.
Replacements: Fabiani for Ioane (7-18), Lovotti for Fischetti (65) Riccioni for Zilocchi (33), Lazzaroni for Cannone (52), Mbanda for Meyer (26-36), Violi for Varney (63), Mori for Garbisi (54) Padovani for Trulla (44).
Wales: L Williams; Rees-Zammit, North, J Davies, Adams; Biggar, G Davies; W Jones, Owens, Tomas Francis, Hill, AW Jones (capt), Navidi, Tipuric, Faletau.
Replacements: Dee for Owens (54), Carre for W Jones (57), Brown for Francis (45), Ball for AW Jones (54), Wainwright for Faletau (51), L Williams for G Davies (52), Sheedy for Biggar (52), Halaholo for North (46)
Match officials
Referee: Wayne Barnes (England)
Touch judges: Pascal Gauzere (France) & Christophe Ridley (England)
TMO: Tom Foley (England)
MATCH ANALYSIS
Surely it was discipline that was the main problem for Italy.
Mistakes and an incredible ability to give away stupid penalties, as a series of needless errors allowed the visitors to build an insurmountable lead early on.
It all started with Paolo Garbisi sending the ball dead from the kick-off before Luca Bigi infringed at the breakdown. The captain then cynically stopped a Gareth Davies quick tap and was duly yellow carded. Against 14 men, Wales built up an advantage they would not relinquish as the visitors won the game before it had really started. It was not a good example from the skipper and is symptomatic of where the Italians are currently at.
Arguably since before the 2017 British and Irish Lions tour, the back has struggled for form, leading many to question whether that was it for the Welsh centurion. Although he is only 28, it must be remembered that North has been around at the top level for a long time and there is only so much the body can take in modern day rugby. However, the move into the midfield seems to have given him a new lease of life.
To the surprise of many, Callum Sheedy did not start against Italy after his superb performance versus England. Instead, it was the much criticised Dan Biggar who continued at fly-half and produced a significantly improved display before giving way to the Bristol playmaker in the second period. Sheedy was also excellent when he came on and it leaves Wayne Pivac with a decision to make going forward. No doubt, Biggar will start next week against France – albeit the head coach is not afraid of making a big call – but the 25-year-old is certainly not far off the first XV.
Much has been said and written about the Azzurri's continued presence in the Six Nations and based on the evidence in this fixture, they really shouldn't be playing in a competition of this stature. Franco Smith's charges were never at the races with Wales racing into a 22-0 lead midway through the half without really breaking a sweat. Italy hardly threatened on attack – especially during the first half – and it looked like it was a case of men against boys for large periods of this Test. The result means they have now lost 31 matches on the trot, which is the longest losing streak in the history of the Championship, and they last tasted victory in a Round Three clash against Scotland in 2015. The time is now ripe for tournament organisers to reconsider their participation.
Although Italy were never in this encounter, Wales deserve plenty of credit as they impressed for the entire game and made full use of the opportunities which were presented to them.
Pivac will be delighted with the clinical fashion with which his players went about their business and they had their bonus point in the bag by the half-hour mark after Josh Adams, Taulupe Faletau and Ken Owens (2) crossed for tries. Despite leading 27-0 at the interval, Wales did not take their foot of the pedal with North also crossing the whitewash soon after the restart and although Monty Ioane scored a try for the hosts, that was a mere blip as Wales continued to dominate and sealed their win with five-pointers from Sheedy and Louis Rees-Zammit.