Dangers of flu during pregnancy: Welsh mums urged to beat flu
HEALTH OFFICIALS have this week stressed the real dangers to pregnant women who fail to protect themselves against the flu.
A pregnant woman who contracts flu is five times more likely to have a stillborn baby or for their baby to die in the first week. They are also three times more likely to deliver prematurely, so health officials in Wales are actively promoting the free flu vaccine to help protect pregnant women against the dangers of flu to both themselves and their unborn baby.
A pregnant woman who catches flu is seven times more likely to die than a non-pregnant woman with flu, but despite this many pregnant women didn't have the free vaccination last year.
Dr Richard Roberts, Head of the Vaccine Preventable Diseases Programme at Public Health Wales, explains why, and how, pregnant women should protect themselves from flu:
"Expectant mothers do not have the same ability as other healthy people to fight viruses such as flu, and this can be devastating for the woman and her unborn baby.
"If a pregnant woman catches the flu it can cause severe complications to mum and baby: but this can all be prevented with one quick, simple vaccination".
A number of studies have also shown that flu vaccination during pregnancy also provides a level of immunity against flu to infants in their first few months of life.
Women can have the flu vaccination at any stage in their pregnancy, but the sooner the better. It is perfectly safe to breastfeed after the flu vaccination. Lots of information and data on inactivated flu vaccines has been collected from across the world and there is no indication that these vaccinations have an adverse effect on mother or baby.
The annual flu vaccination programme aims to ensure that the people who need it most get free protection each year against the flu. This includes everyone aged 65 and over and people with certain long term health conditions, as well as pregnant women.
This year for the first time a flu nasal spray vaccine is being offered to children who were two or three years old on 1 September and school year 7 pupils. The younger children will have the spray in their GP practice and Year 7 children will receive their nasal spray vaccine in school.
Case study
Pregnant south Wales sisters beat flu by getting their free jab together.
Two sisters from south Wales have opted to beat flu together as they took themselves, and their baby bumps, to the GP for their free vaccination.
Sisters Kate Williams and Beth Johnson, originally from Ammanford in Carmarthenshire, wanted to protect themselves and their babies against the dangers of flu that are especially problematic for mums-to-be.
Carmarthenshire sisters Kate and Beth are not willing to take any chances with flu this year. 6 months pregnant and mother of one Kate Williams, 38, said:
"I decided to have the flu jab as I will be pregnant throughout the winter and definitely do not want to be hit by the flu virus for the sake of my health and my unborn baby.
"I heard the adverts on the radio about the free vaccination and called my surgery to book an appointment. It was really easy and not painful. I now have the peace of mind that I and my unborn baby will be protected. I would advise all pregnant women to go and get the jab so you and your baby are protected."
Kate's younger sister Beth Johnson, 35, is 8 months pregnant. She added:
"My surgery advised me to have the flu jab as I was pregnant. Initially I didn't realise I was eligible for the free vaccination or that I should have it, but after hearing how ill you can be with the virus and what serious consequences it can have for pregnant women and unborn babies, I had it. Now I'm happy that I will be protected and can rest easy approaching the final stages of my pregnancy."
Preseli MP kicks off The Great British Spring Clean with roadside litter pick
PRESELI Pembrokeshire MP Stephen Crabb has called for action to halt the growing quantity of litter discarded on roadside verges across Pembrokeshire. "Litter plaguing county could jeopardise Pembrokeshire's tourism reputation", he said.
The MP has used the start of The Great British Spring Clean 2023, which runs from 17th March to 2nd April, to draw attention to the state of the County's green verges and hedgerows, some of which are now strewn with drink cans, coffee cups and fast-food cartons. As well as damaging the environment, the volume of litter risks undermining Pembrokeshire's reputation as a wonderful place for tourists to visit.
Hearing direct from Pembrokeshire residents concerned about the increase in litter, Stephen Crabb MP has called on Pembrokeshire County Council and Pembrokeshire Coast National Park Authority to step up and take action ahead of the busy tourism season.
Stephen and his team, together with Johnston County Councillor Aled Thomas, gathered for a litter pick around Johnston on the first day of the British Spring Clean on Friday 17th March.
Commenting during the litter picking session, Stephen Crabb said, "I'm really concerned right now about the amount of litter that I am seeing. It's the worst it's ever been. Today, we have been picking up lots of fast-food wrappers, cigarette packets, energy drink cans and coffee cups scattered along the roadsides – it's a real disgrace."
He commended local efforts by groups such as the Newgale Beach Wombles and Eco Dewi and others who regularly volunteer their time to help keep our beaches and County clear of rubbish. He urged residents to think about how they are disposing their litter and encouraged people consider becoming a Litter Champion – part of the Keep Wales Tidy campaign.
He added, "Locals are raising it with me all the time at the moment and it's a wide-spread problem across the County. People are really fed up of it. I am also concerned about the impression that it provides to tourists who visit our County for its outstanding natural beauty."
The MP used equipment provided by one of the six Caru Cymru's Keep Wales Tidy community litter picking hubs across Pembrokeshire. They provide equipment free of charge to members of the community. This includes litter pickers, hoops, hi-vis vests and bin bags. The kit also contains all necessary health and safety guidance and support on competing a Litter Picking Loan Agreement and a Risk Assessment.
Stephen Crabb has also called on Welsh Government Education Minister, Jeremy Miles, to use the new Welsh curriculum to educate and help influence behaviour in young people in primary and secondary education on litter prevention.
County Councillor Aled Thomas said, "We all have a responsibility to keep our communities as clean as possible and to show our natural environment at its best. We have to be pro-active and do our bit and stop turning a blind eye to the problem that we have here in Pembrokeshire."
In his letter to the Leader of Pembrokeshire County Council, he wrote "I appreciate there is considerable pressure on the maintenance team covering Pembrokeshire but there is enormous strength of public feeling about this issue locally. Local people are being asked again to pay large increases in Council Tax; they want to see core functions delivered well."
Community asset bids sought for former John Nash designed Foley House
COMMUNITY groups who want to take over a Grade II-listed Georgian town house in Haverfordwest have just a few days to submit bids to Pembrokeshire County Council.
The council is proposing to dispose of the John Nash-designed Foley House via a Community Asset Transfer (CAT), and is inviting applications from the community, charitable or not-for-profit organisations who will use the asset to benefit the community, or for social aims.
The closing date for applicants submitting a business plan to propertyhelpdesk@pembrokeshire.gov.uk is just a few days away, March 24.
Following that, it is expected any recommendations for a CAT transfer will be considered at the April meeting of Pembrokeshire County Council's Cabinet.
One of those in the running is Adam's Bucketful of Hope Cancer Support Centre.
The family of Adam Evans-Thomas has been fundraising for almost 30 years for various areas of the NHS.
Adam, who died of leukaemia started the fundraising by raising £45,000 in 1993 to test 3,000 potential Bone Marrow Donors from Pembrokeshire for the Welsh Bone Marrow Donor Register.
Since his death, in 2007 a High Dependency Room called the "Pembrokeshire Room" in Cardiff's Heath Hospital was funded by his charity, and in 2009 Adam's Bucketful of Hope Cancer Support Centre was opened.
In November 2021, the charity started looking for new premises, eventually deciding that Foley House had the space inside and out to allow the charity to expand from supporting cancer patients to supporting patients with all life-limiting conditions.
The charity approached Pembrokeshire County Council and has entered into a CAT bid for Foley House.
For any prospective bidders, Pembrokeshire County Council states there should be support within the community for the proposal and optimum use of the asset for the community should be made.
There should be both a need and demand for the proposed activities and consideration will be given as to whether or not these are being satisfactorily addressed by another organisation.
The proposal will need to demonstrate how it benefits as wide and diverse a range of local people as possible, with an inclusive approach to all members of the community.
The business plan submitted must answer a string of criteria, including the applicants being able to restore, repair and maintain the building, in keeping with the legal requirements of its Grade II listing.
All costs will be the applicant's liability and all current illegal alterations must be rectified, the council has said.
Prospective parties are advised to contact Pembrokeshire County Council Planning Department on Haverfordwest 01437 764551.
Wildfire preparation works inspected by Pembrokeshire Community Fire Safety Team
IN EARLY March, members of the Pembrokeshire Community Fire Safety team and Haverfordwest Station visited Carningli Mountain to oversee preparation works and a control burn, in readiness for the summer and as part of responsible land management.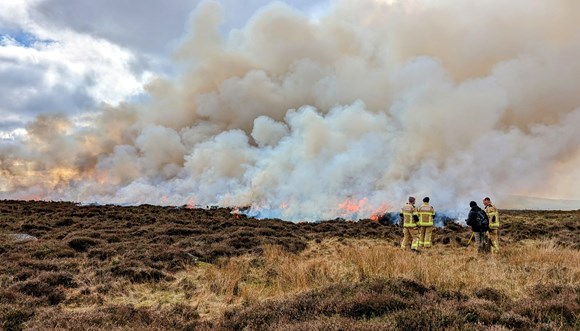 During their first visit of the week, they saw firebreaks being cut by a remote-controlled 'iCutter' flail, which can cut grass, weeds, shrubs and branches. Working in conjunction with the Carningli Graziers Association and rangers from Pembrokeshire Coast National Park, areas were being prepared for prescribed burning.
On their second visit, the Graziers Association were conducting a controlled burn and were joined and assisted by Natural Resources Wales (NRW), with the prescribed area lit in a controlled manner and supervised throughout.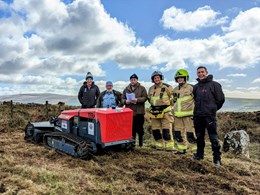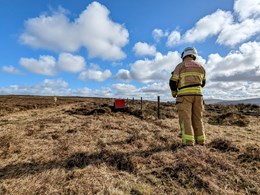 Every year, fire is responsible for the destruction of thousands of hectares of countryside, open space, and wildlife habitats. From the beginning of January to mid-March alone, Mid and West Wales Fire and Rescue Service (MAWWFRS) has attended 84 grass fires.
Temperature records were shattered during 2022, with parts of Wales breaking the 40°C threshold for the first time in recorded history during a series of heatwaves. As is often the case with hot weather, many people visited Wales's world-renowned coastline, however this did not come without issues. MAWWFRS attended hundreds of grassfires during this period and sadly, over half of these were reported as being deliberate.
In July last year, the popular coastal resort of Newgale was turned black as fire tore through the dry undergrowth twice, destroying 11 hectares of countryside and numerous wildlife habitats. While extensive damage made it difficult to determine a cause, the most likely source of ignition seems to have been a discarded barbecue.
August proved to be an even busier month for MAWWFRS, with a wildlife incident near Whitesands caused by a discarded glass bottle, as well as yet another major grassfire in Newgale – this time burning 60 hectares and requiring the assistance of crews from as far afield as Brecon and Llandrindod Wells.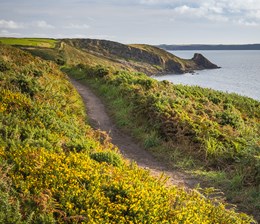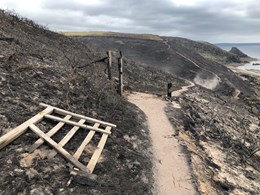 Newgale before and after the 2022 wildfires
Although the landscapes and wildlife are expected to fully recover over time, these incidents form part of a more worrying pattern of climate change, where changing conditions are aiding the spread of fires and on a far more frequent basis.
Many wildfires are preventable and there some simple steps that can be taken to avoid another summer blighted by them, these include:
Never use barbecues or light fires in national parks, including beaches. Apart from the fire risk, the hot coals and sharp edges of discarded barbecues pose a hazard to wildlife and people.
Extinguish cigarettes and other smoking material properly.
Clear away bottles, glasses, and any broken glass to avoid them magnifying the sun and starting a fire.
Explain to children the dangers of playing with and lighting fires.
MAWWFRS has recently reformed Operation Dawns Glaw, a multi-agency taskforce of specialists from key agencies across Wales who are committed to reduce, and where possible eliminate, the impact of grass fires across Wales. More information on #DawnsGlaw can be found here.
In 2022 the fire services across Wales attended 3,269 grassfire incidents – this was an increase of 62% on the previous year, with deliberate grass fires increasing by 1,542 (47%) to 2,263.
Starting a deliberate fire is a criminal offence.  You can report a deliberate fire anonymously by calling Cymru/Wales CrimeStoppers on 0800 555111. 
In an emergency, always call 999.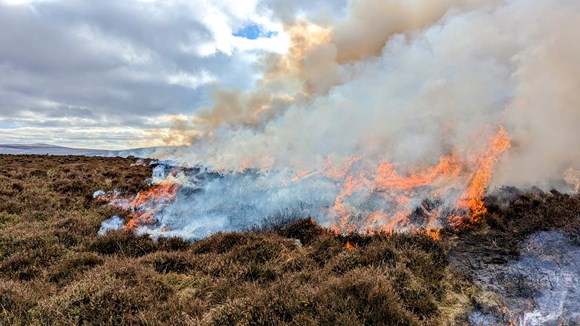 Controlled burn on Carningli Mountain