Monkeypox Q&A: how do you catch it and what are the risks? An expert explains
THE LATEST outbreak of monkeypox has, at the time of writing, reached 17 countries with 110 confirmed cases and a further 205 suspected cases. It's a fast-moving story, so if you need to catch up on the latest, here are answers to some of the most pressing questions.
How is monkeypox spreading?
The first patient in the current outbreak had returned to the UK from travels to Nigeria where monkeypox is endemic. However, cases are now spreading among people who have not travelled to west or central Africa, suggesting local transmission is occurring.
Monkeypox usually spreads by close contact and respiratory droplets. However, sexual transmission (via semen and/or vaginal fluid) has been posited as an additional possible route. The World Health Organization (WHO) says: "Studies are needed to better understand this risk."
Most cases in the current outbreak have been in youngish men, but the virus can spread to anyone.
There are no confirmed cases in Pembrokeshire at the present time.
What are the symptoms?
Early symptoms are flu-like, such as a fever, headaches, aching muscles and swollen lymph nodes.
Once the fever breaks, a rash can develop, often beginning on the face and then spreading to other parts of the body – most commonly the palms of the hands and soles of the feet.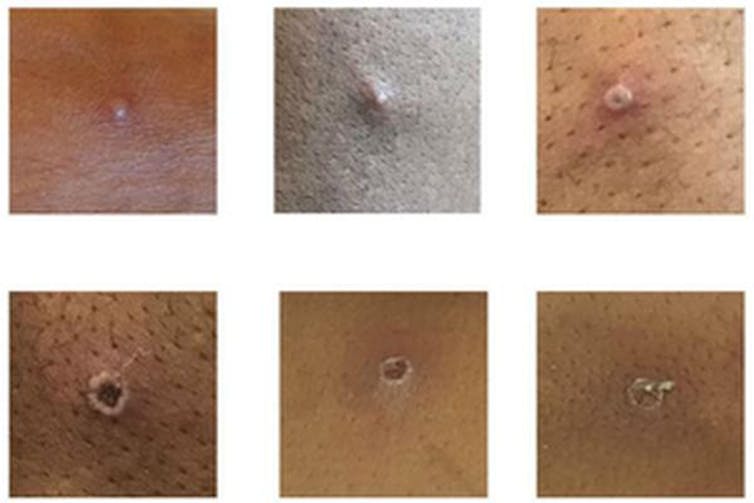 How deadly is monkeypox?
Monkeypox is mostly a mild, self-limiting disease lasting two-to-three weeks. However, in some cases, it can cause death. According to the WHO, the fatality rate "in recent times" has been around 3% to 6%. The west African monkeypox virus is considered to be milder than the central African one.
Monkeypox tends to cause more serious disease in people who are immunocompromised – such as those undergoing chemotherapy – and children. There have been no deaths from monkeypox in the current worldwide outbreak, but, according to the Daily Telegraph, one child in the UK is in intensive care with the disease.
Why is it called monkeypox?
Monkeypox was first identified in laboratory monkeys (macaques) in Denmark in 1958, hence the name. However, monkeys don't seem to be the natural hosts of the virus. It is more commonly found in rats, mice and squirrels. The first case in humans was seen in the 1970s in the Democratic Republic of the Congo.
Is monkeypox related to smallpox and chickenpox?
Monkeypox is related to smallpox – they are both orthopoxviruses – but it is not related to chickenpox. Despite the name, chickenpox is a herpes virus, not a poxvirus. (How "chicken" got in the name is not entirely clear. In his dictionary of 1755, Samuel Johnson surmised that it is so named because it is "of no very great danger".) Nevertheless, the vesicles (little pus-filled blisters) caused by monkeypox are similar in appearance to those of chickenpox.
Are cases likely to continue rising?
Cases are likely to continue to rise significantly over the next two-to-three weeks, but this is not another pandemic in the making. Monkeypox doesn't spread anywhere near as easily as the airborne virus SARS-CoV-2 that causes COVID-19.
Has monkeypox evolved to be more virulent?
RNA viruses, such as SARS-CoV-2, don't have the ability to check their genetic code for mistakes each time they replicate, so they tend to evolve faster. Monkeypox is a DNA virus, which does have the ability to check itself for genetic mistakes each time it replicates, so it tends to mutate a lot slower.
The first genome sequence of the current outbreak (from a patient in Portugal) suggests that the virus is very similar to the monkeypox strain that was circulating in 2018 and 2019 in the UK, Singapore and Israel. So it is unlikely that the current outbreak is the result of a mutated virus that is better at spreading.
How is monkeypox diagnosed?
In the UK, swab samples taken from the patient are sent to a specialist laboratory that handles rare pathogens, where a PCR test is run to confirm monkeypox. The UK Health Security Agency has only one rare and imported pathogens laboratory.
Is there a vaccine for it?
Vaccines for smallpox, which contain the lab-made vaccinia virus, can protect against monkeypox. However, the vaccine that was used to eradicate smallpox can have severe side-effects, killing around one in a million people vaccinated.
The only vaccine specifically approved for monkeypox, Imvanex, is made by a company called Bavarian Nordic. It uses a nonreplicating form of vaccinia, which causes fewer side-effects. It was approved by the US Food and Drug Administration and the European Medicines Agency in 2019 – but only for use in people 18 years of age or older.
UK health secretary Sajid Javid said that the UK government will be stocking up on vaccines that are effective against monkeypox. The UK currently has about 5,000 doses of smallpox vaccine, which has an efficacy of around 85% against monkeypox.
Are there drugs to treat it?
There are no specific drugs to treat monkeypox. However, antivirals such as cidofovir and brincidofovir have been proven to be effective against poxviruses in animals and may also be effective against monkeypox infections in humans.
By Ed Feil, Professor of Microbial Evolution at The Milner Centre for Evolution, University of Bath
This article is republished from The Conversation under a Creative Commons license. Read the original article.
Tenby mass vaccination centre temporarily closed due to Long Course Weekend
TENBY'S mass vaccination centre will be temporarily closed on Saturday 2 July and Sunday 3 July due to the Long Course Weekend.
The vaccination centre, located at Tenby Leisure Centre, SA70 8EJ, will be open Friday 1 July between 10am and 7.30pm for drop-ins.
Other locations are open over the weekend, including Haverfordwest's mass vaccination centre at the Pembrokeshire Archives (SA61 2PE) which is open for drop-ins between 10:00am and 3:00pm on Saturday 2 July and between 10:00am – 7:30pm on Sunday 3 July.
Tenby mass vaccination centre will continue to operate its regular opening hours of Fridays, Saturdays and Sundays between 10:00am – 7.30pm the following weekend. Thank you for your understanding.
Reminder for people to get their spring booster in Wales
PEOPLE eligible for the spring COVID-19 booster are being urged to get vaccinated before the cut-off date of Thursday 30 June.
Since late March, people aged 75 and over, care home residents, and anyone aged 12 or over who is immunosuppressed have been able to get their spring booster to increase their level of protection against COVID-19.
By taking up the offer of a spring booster now, this allows a sufficient interval between doses, if they are deemed eligible by the Joint Committee on Vaccination and Immunisation (JCVI) for an autumn 2022 booster.
If someone eligible for a spring booster has had a COVID-19 infection recently, they will need to wait 28 days (4 weeks) from the date they tested positive before they can be vaccinated. They will still be able to get vaccinated after 30 June if they have to postpone their appointment.
Health Minister Eluned Morgan said:
"Our high vaccination rates are really encouraging and every vaccination helps people to maintain high levels of protection from COVID-19.
"If you have been offered a spring booster vaccination then please make the effort to arrange your appointment before the 30 June cut-off and continue to keep Wales safe."
Parents and guardians are also encouraged to check when their children aged 5 to 11 are due their next vaccination.
If a child has recently had COVID-19 when they were offered their vaccination in the early spring, they will be able to be vaccinated after 12 weeks.
Any child who has had their first dose, is encouraged to take up the offer of their second dose before the start of the autumn school term.
We are also encouraging students to complete their full course of two doses before returning to university and college in September to make sure they are as protected as possible.
Check your local health board for full details of how to get vaccinated – https://gov.wales/get-your-covid-19-vaccination
Drugs warning: Two hospitalised after taking antidepressant Amitriptyline 
POLICE OFFICERS in Haverfordwest are warning that taking prescription drugs not prescribed to you can be dangerous after two youths needed medical attention.
The youths, from the Haverfordwest area, were taken to hospital overnight, Friday 24th June and Saturday 25th June, after taking a prescribed drug, believed to be Amitriptyline.
Police are urging anyone who has been offered the medication not to take it as the side effects could be serious.
Inspector Reuben Palin said: "We are aware of youths using prescription drugs not prescribed to them. We believe the youths had been in each other's company. Like all drug abuse, using prescription drugs for the wrong reasons has serious risks for a person's health.

"We would appeal to anyone who becomes unwell to seek medical attention immediately.

"Please share this information with anyone that you believe could come into contact with these drugs."
To seek advice and support, visit https://barod.cymru/where-to-get-help/west-wales-services/ddas-dyfed-drug-and-alcohol-service/. Please be aware that some services may operate an automated service outside office hours.
In an emergency, or if you think someone's life is at risk, always dial 999.