Pembrokeshire County Council Failings lead to set up of Education Recovery Board
Concerned parents and guardians of our County's children will be disappointed with the decision by the Welsh Assembly to appoint a Welsh Recovery Board to oversee improvements, once again, in Pembrokeshire County Council's education service. This comes after nearly two years of our Council attempting to resolve this worrying situation, without, it would appear, satisfactory success.
In 2011, a report by Children Commissioner for Wales, Keith Towler, led to a team being sent by the Assembly with the purpose of overseeing change in Pembrokeshire County Council's policies and systems for safeguarding children and young people. These were judged to be 'unfit for purpose' by ESTYN who had produced a report at that time.
Council leader at the time, John Davies, assured voters and County constituents that Pembrokeshire County Council were not hiding from the matters raised, and he promised improvements and change in order to meet the requirements of both ESTYN and the Welsh Assembly.
It will come as grim news, therefore, that now Ministers from the Welsh Government have stated that changes in how our Pembrokeshire County Council safeguards children are not happening fast enough. As a result of this dissatisfaction, Huw Lewis, the Assembly Education Minister, along with Local Government Minister, Lesley Griffiths, have decided to set up a Recovery Board to oversee these required improvements in Pembrokeshire's Education Services.
Leader of Pembrokeshire County Council, Jamie Adams, is quoted as saying he welcomes the board, having already had productive meetings with them.
Reading from a local newspaper's message board, and in response to this developing story, it was clear from the comments attached to the story, that parents are angered and dismayed by the seeming inability of Pembrokeshire County Council to resolve issues and problems directed at them from some two years ago, despite Assembly assistance.
In April of this year, the Pembrokeshire Ministerial Board was wound up after more than a year and a half advising the local authority on changes to its policies and operation for safeguarding children.
In a Welsh Government written statement, Huw Edwards, Minister for Education, commented on an ESTYN report published in December 2012 that had said of Pembrokeshire, 'The Authority's education services were found to be unsatisfactory', and it further went on to say that they had, 'judged Pembrokeshire's prospects for improvement as unsatisfactory'. As well as that, it stated that, 'corporate leaders and senior elected members have been too slow to recognise key issues in safeguarding'. Of Pembrokeshire County Council, Mr Lewis continued by adding that, 'arrangements lack rigour and do not identify, accurately, areas in need of further improvement and the Authority has made limited progress in addressing recommendations from previous inspections'.
In support of those who provide the day to day education in our County, Angela Davies, Shadow Minister for Education and local AM, said that,
"Education services in Pembrokeshire have gone through a torrid time over the past few years but parents and pupils must hold fast to the fact that the majority of the teaching profession are totally committed to providing an excellent education for Pembrokeshire children".
She was, however, quite clear as to where the blame should lie for the failings of the County Council education services and said,
"The ongoing problems stemmed from inadequate management practices within education services and a poor attitude to the proper safeguarding of children. Like all parents I know that I expect my children to be treated well and kept safe at school. Their well being and safety is of equal importance as the education they receive, and it was with a great sense of shock that we learnt of the adverse, and, at times, damning reports from Estyn and CSSIW which were the reasons for the initial Pembrokeshire Ministerial Board and for education services to be put into special measures.
The key issues appear to be inadequate oversight of key services, a lack of action when things went wrong, inadequate management, weak representation and an overly strong officer culture resistant to change. Since then a number of agencies have examined aspects of education and safeguarding in Pembrokeshire and there appears to be a sense that improvements are ongoing but are happening too slowly.
The fact that the Welsh Government have felt able to replace the Ministerial Board with a Recovery Board is good news and I am sure that Pembrokeshire's appointment of a new Head of Education Services will usher in a more dynamic and constructive era."
She also went on to make further comment on the Assembly's role in education for Wales,
"I am concerned that there are so many local authority education services in special measures throughout Wales and I have called on the Welsh Government to explain why this is so.
It is also concerning to note that the General Teaching Council for Wales is not being inundated with lots of disciplinary cases arising from all these special measures and I would have thought that if education is so very bad in Wales, given the six Authorities in special measures, then the GTC would be flat out.
I am aware that the Government has an agenda for change and there are recommendations that there should be fewer local education authorities, ultimately, perhaps, leading to fewer county councils. However, I do not want to see education services, teachers and, above all, our children's present and future being used to crowbar change. So I challenge the Government to ensure their actions are crystal clear and their motives pure."
It is to be hoped that for the sake of our County's children and for the peace of mind of parents and guardians alike that this Recovery Board is able, finally, to steer our County Council's education services in the right direction, and resolve the safeguarding issues that remain of grave concern to all those who work in those areas where children are involved. As one local teacher put it, "No one wants to see a repeat of what happened at the Pupil Referral Unit in Neyland or read again about twenty-five cases of alleged professional abuse, as happened between 2007 and 2011".
New Director joins the Open University in Wales
ON NOVEMBER 27, The Open University in Wales welcomed Ben Lewis as its new Director.
Ben joins the OU in Wales from Cardiff University where he was Director of Student Life. He succeeds Louise Casella who retired in June.
David Price had been the OU in Wales' Interim Director until Ben's arrival.
Ben Lewis said: "The Open University is synonymous with the idea of lifelong learning. At its heart is the belief that education should be available to people wherever they are, and whatever their circumstances. It's an exciting time to be joining the OU in Wales – our student numbers have never been higher, with government and decision makers recognising the value of part-time flexible higher education.
"I thank David Price for his stewardship during the interim period, and for the welcome I've received from colleagues, students and stakeholders. It's a privilege to be joining this team, and I look forward to playing my part in the next steps of the university's future."
President of The Open University Student's Association (OUSA), Swansea-based Margaret Greenaway added:
"We want students to have a say in how their university is run, regardless of their background or where they live. We're proud of the positive relationship OUSA has with the OU in Wales, and we're sure this will continue during Ben's time as Director. A big welcome to him to the OU family!"
Pembrokeshire school devastated by fire unlikely to reopen before September 2025
A PEMBROKESHIRE school, devastated by fire just over a year ago, is unlikely to see pupils back at their desks before September 2025, councillors heard.
Manorbier Church in Wales VC School and its adjoining schoolhouse was severely damaged by a fire on October 11 of last year, which broke out in the school roof space.
Pupils and staff were successfully evacuated with no injuries, and a 'school from school' was set up in Jameston Village Hall, after a brief period of sanctuary at the nearby Buttyland caravan site.
Members of the council's schools and learning overview and scrutiny committee, meeting on November 23, heard an update on works to rebuild the school and adjoining schoolhouse.
Director of Education Steven Richards-Downes said works to reinstate the building had commenced after 'in principle' decisions by the council's Cabinet, hampered by "the complexities of ownership around the building and adjoining school house," both owned by the Diocese of St Davids.
He said a phased approach to reinstate the buildings started with preliminary works – now completed – starting in early October, with second phase works, through the diocese and its insurers, expected to be finished by the end of the year, before being handed back to the council for the third phase.
Councillor Alistair Cameron asked when the pupils could return to the rebuilt school, a September 2024 date having previously been mooted, Mr Richard-Downes saying it was "unlikely to be September 2024".
Councillor David Howlett said an item from an earlier committee report, which stated surplus spaces at the school had risen from just under 55 per cent to 72 per cent from 2022-'23, describing the figures as "stark," adding: "If that continues it paints a very worrying picture".
He was told there was no evidence of any significant change as a result of the fire; with families moving in as a result of a nearby housing development expected to increase numbers.
Local member, Cllr Phil Kidney thanked officers for their work, adding he hoped two new housing developments in the area would bolster school numbers.
On the subject of the school reopening, he said: "It's not going to be 2024 to be honest, we're looking more like September 2025; I cannot impress enough the importance that the school has in the community, we've lost a shop and one of the pubs is closed in the winter.
"The staff there are so devoted, there's no question about the level of teaching the children are receiving, they go to Greenhill [comprehensive] they flourish."
He said it was important the school was kept to the fore: "If we can just ask you to keep this on the agenda and keep it in the headlines so Manorbier is not forgotten."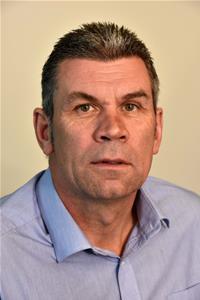 Rev John Cecil of the diocese said the school, due to be inspected next week, was "exceptionally well run under very difficult circumstances," adding there was "certainly a desire to work with [the council] and see that school reopened".
Cllr Kidney was the last to speak on the update, saying parents were "obviously anxious" about the timescale for works, adding: "But now there is some scaffolding coming out of the ground they're confident something is going to happen, it all seems to be going the right way."
Excellent progress on construction of new Welsh medium primary school
A CELEBRATION event was held on the site of the new Ysgol Gymraeg Bro Penfro in Pembroke on Tuesday 14th November to mark the reaching of the highest point of the building, traditionally known as the 'topping-out' ceremony.
The event was hosted by Morgan Sindall Construction & Infrastructure Ltd and attended by pupils and staff from Ysgol Gelli Aur, the Executive Headteacher of the new school, governors of the Temporary Governing Body of Ysgol Bro Penfro, Cabinet members, senior Council officers, and a members of the project team.
Pembrokeshire County Council's Cabinet Member for Education and the Welsh Language, Cllr Guy Woodham, said that he was extremely pleased with progress at the site.
"Whilst I was unfortunately unable to attend the ceremony, my Cabinet colleagues have shared with me their experience, and the excellent progress being made on the new school.
"I am particularly pleased that the project remains on budget, and on programme, which means that Ysgol Gymraeg Bro Penfro will be in a position to admit pupils in September 2024."
Members of the school's Temporary Governing Body expressed their delight with the building.
The Executive Headteacher of Ysgol Bro Penfro, Mr Dafydd Hughes, confirmed that pupils and staff thoroughly enjoyed the event and that everyone connected with the school is excited at the prospect of moving to the new school next year.
"The fact that a new Welsh medium primary school is being built in Pembroke is an important and exciting development on so many levels.
"As Executive Headteacher of Ysgol Bro Penfro I am committed to ensure that when the school opens its doors in September 2024 every pupil will be given opportunities to flourish and thrive in a welcoming Welsh medium setting. I am also focused on ensuring that the whole Pembroke community takes great pride in the school."
Pupils were very excited to see the new school. Among the comments received were: "We loved signing the steels, it will help us to remember when we came here when our school was being built and we will always be a part of our new school"
"I can see that everyone is working really hard to build us our school. The school is so much bigger than we expected and can't wait to start learning in our new classes".
The project is being funded by Welsh Government and Pembrokeshire County Council, and will provide a significant contribution to the Council's Welsh in Education Strategic Plan.