Protest against 'draconian' Police and Crime Bill takes place in Haverfordwest
A SECOND Kill the Bill protest took place in Haverfordwest on Saturday (Apr 17).
One of the organisers told  The Herald: "The new law will be an enormous piece of draconian legislation that includes significant expansion in police powers to curtail the right to protest. The right to peacefully assemble and protest are a fundamental part of any democracy; empowering people to have their voices heard, in addition to holding the Government to account. These rights are universal –they protect peaceful and legitimate protest whatever the cause."The events at the Clapham vigil and at demonstrations over the last few weeks are a dangerous indication of what the future of protest will look like if the police powers bill gets through parliament."
A local campaigner, a mother and grandmother said "We are in the process of losing a fundamental part of our democracy, It is important we protect it for future generations. We have messed up so much of their future already-we need to hold the Government to account".
Aspects of the Bill include:
The power for Police forces to shut down protests that they deem too disruptive at their own discretion.
Up to a 10-year sentence for demonstrators considered to be causing a "public nuisance".
The power for police forces to impose start and end times on static protests of any size.
The power to expand stop and search powers, which already discriminate against marginalised communities. If you live in the Dyfed Powys police area, you are 5 times more likely to be stopped and searched if you are black than white.
Up to 10-year sentences for damage to public monuments' Police powers will be expanded and custodial sentences increased to "protect" women.
These measures are not sufficient to prevent violence and are troubling, considering some police officers' involvement in cases of violence against women. Significant restrictions on where protests around Parliament may take place.
The elevation of trespass from a civil offence to a criminal offence, meaning police and courts can give harsh sentences to Travellers.
Increased power of police to seize vehicles and homes from Gypsy, Roma, and Traveller communities and demanding proof of permission to travel.
The bill will criminalise a way of life for these communities.
Some of the proposals in the new bill which is the subject of the protest include putting start and finish times on protests, as well as noise limits. The bill also says damage to memorials could lead to up to 10 years in prison. The bill could also expand stop-and-search powers and includes an offence of "intentionally or recklessly causing public nuisance," which is designed to stop people occupying public spaces and doing things like hanging off bridges or gluing themselves to windows.
The bill will be reintroduced to Parliament after the Queen's Speech, according to the Home Office, with Commons Committee Stage expected to be completed by 24 June.
"The Police, Crime, Sentencing and Courts Bill delivers on the government's commitment to crack down on crime and build safer communities," a Home Office spokesperson says. "We are equipping the police with the tools they need to stop violent criminals in their tracks." They add that the bill "enshrines our commitment to those brave officers who put themselves in danger to keep rest of us safe into law".
One protestor told Herald.Wales: "People are getting more angry and more frustrated and they feel like their issues are not being dealt with – but are rather just simply being cracked down on.
"And that is the wrong approach. People are still going to take to the streets and be even more passionate."
Protests – a senior police officer's view
A police boss who describes himself as an "experienced protester" says a report on how protests are policed is one sided, illiberal and undermines civil and political rights.
North Wales Police and Crime Commissioner Arfon Jones is so concerned that he has written to Home Secretary Priti Patel to complain about it.
The UK Government used the report by Her Majesty's Inspectorate of Constabulary, Fire and Rescue Service (HMICFRS),"Getting the balance right?, when they were drafting the controversial Police, Crime, Sentencing and Courts Bill.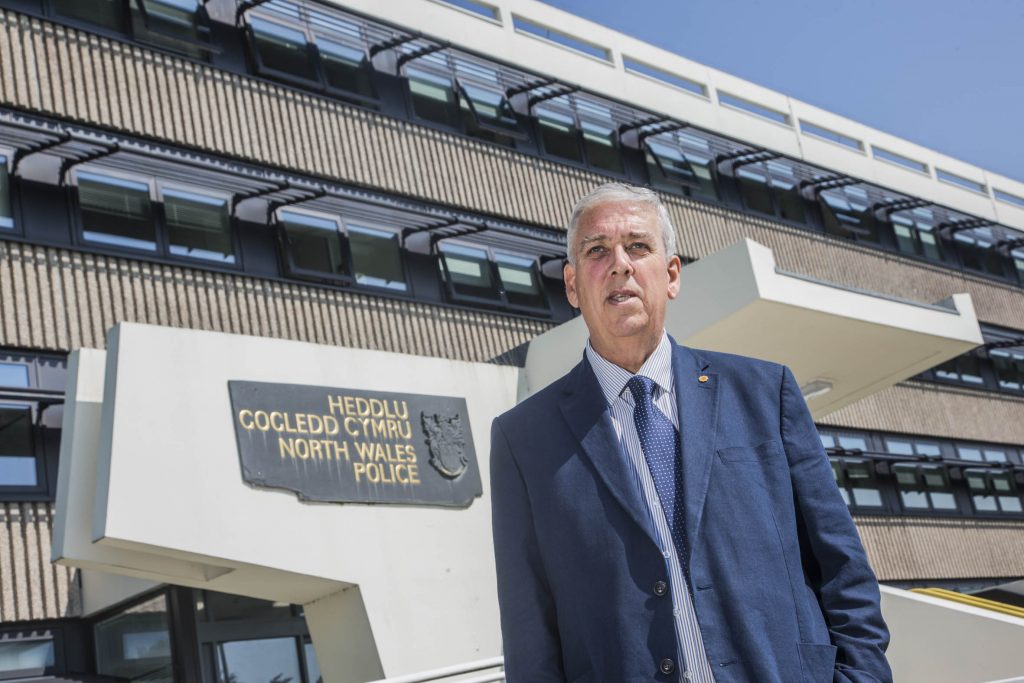 According to the inspectors, the balance had tipped too heavily in favour of protesters.
The legislation will give the police powers to set start and end times for static protests and stop protests if they are judged to be too noisy or too "disruptive".
Protesters face fines of up to £2,500 and up to 10 years in jail if they are convicted.
Mr Jones, a former police inspector, said: "Although equilibrium should be struck between individual rights to protest and the general interests of the community, I simply do not agree the balance tips too readily in favour of protestors.
"The recommendations in the report are one sided, illiberal and undermine civil and political rights and are not in the public interest.
"The new powers in the proposed act are not necessary and will prevent protest as we know today. The whole purpose of protest is to disrupt and to seek change.
"The police have enough powers to police protests and do not need more. I do not believe that HMICFRS have the balance right in this report and as an *experienced* protestor for the last 50 years the perception that police are favourable towards protestors rights is a fallacy.
"Policing protests has always been, and always will be, a tool of the state to control its citizens and I will have no truck with it.
"Automatic Facial Recognition in non-violent protests is a privacy intrusion and should not be used.
"Non-violent protests should be policed as events not as a public order exercise.
"The Police, Crime, Sentencing and Courts Bill will afford new powers to officers to tackle protests, including measures aimed at static protests and a new offence of 'intentionally or recklessly causing public nuisance', which is in part defined as causing 'serious annoyance' or 'serious inconvenience'.
"In a democracy the right to protest sometimes means people are inconvenienced, such is the price of living in a society where voicing support for a cause of your choosing is permitted. "These proposals seek to whittle that right down to such a degree that any demonstration, large or small, may be heavily restricted or even curtailed altogether. The effect on free expression will be substantial.
"The report is short-term and politically driven. Policing should be very careful not to be drawn into the situation of being arbiters of which protests can go ahead and become stuck in the middle.
"The policing of industrial action in the 1970s reminds us that policing protests may cause long-term damage on the relationships between community and police.
"The United Kingdom and its people have been through a very difficult year, with exceptional Covid-19 restrictions coming to an end as the pandemic recedes.
"This is a time for reflection and consideration, not a time to be rushing through poorly thought out measures to impose disproportionate controls on free expression.
"Such laws may shield ministers and corporations from public dissent, but who would wish to live in a society where such matters are guiding principles of legislation?"
Counting underway following police and crime commissioner vote
COUNTING is under way to find out who will be the four police and crime commissioners (PCCs) in Wales today (Sunday, May 9).
Polls were held on Thursday for South Wales Police, Dyfed-Powys Police, North Wales Police and Gwent Police alongside the Senedd election on Thursday (May 6).
With the exception of the North Wales Commissioner, all the incumbents are running again.
The rules of the election are that unless a candidate gets more than 50% of votes in the first round of counting, then all but the top two candidates are eliminated from the election, and secondary votes on the ballot paper are then counted.
In Pembrokeshire the count is taking place for the Preseli constituency and the West Carmarthenshire and South Pembrokeshire constituency at the County Show Ground.
When will the news Commissioner be sworn in?
The swearing of the oath will also take place today, Sunday (May 9), and the elected Police and Crime Commissioner's new term in office will start on May 13.
"The Police and Crime Commissioner Elections (Declaration of Acceptance of Office) Order prescribes the form of words that the elected Police and Crime Commissioners will be required to declare before they take office," said a PCC spokesperson.
"The term of a person elected as a PCC at an ordinary election begins on the seventh (calendar) day after the day of the poll, and ends with the sixth (calendar) day following the subsequent poll.
"The term for incumbent PCCs should cease on May 12, and the newly or re-elected PCC will commence in office on May 13.
What is a Police and Crime Commissioner?
Police and Crime Commissioners (PCCs) were elected In 40 force areas across England and Wales. Every force area is represented by a PCC, except Greater Manchester and London, where PCC responsibilities lie with the Mayor.
The role of the PCCs is to be the voice of the people and hold the police to account. They are responsible for the totality of policing.
PCCs aim to cut crime and deliver an effective and efficient police service within their force area.
PCCs have been elected by the public to hold Chief Constables and the force to account, effectively making the police answerable to the communities they serve.
PCCs ensure community needs are met as effectively as possible, and are improving local relationships through building confidence and restoring trust. They work in partnership across a range of agencies at local and national level to ensure there is a unified approach to preventing and reducing crime.
Who are the candidates?
The incumbent, Dafydd Llywelyn, was elected as one of the two new Plaid Cymru PCCs during 2016's election and is the PCC for Dyfed-Powys Police.
The force covers over half the land mass of Wales and during the PCC elections had the highest turnout of all PCC elections at 49%.
Hoping to be re-elected, Dafydd is a former Principal Intelligence Analyst and worked within Police Intelligence for many years before, in 2014, moving to Aberystwyth University to lecture on Criminology. His career has provided him with considerable insight into core policing issues as well as an understanding of what the public want from the service. He has pledged to reinvest in CCTV and prevention activities and has refused to appoint a deputy.
Standing against him are three other candidates – Jon Burns (Conservative); Philippa Thompson (Labour) and Glyn Preston (Welsh Liberal Democrats).
Under the terms of the Police Reform and Social Responsibility Act 2011, PCCs must:
secure an efficient and effective police for their area;
appoint the Chief Constable, hold them to account for running the force, and if necessary dismiss them;
set the police and crime objectives for their area through a police and crime plan;
set the force budget and determine the precept;
contribute to the national and international policing capabilities set out by the Home Secretary; and
bring together community safety and criminal justice partners, to make sure local priorities are joined up.
How the voting works
If there are more than two candidates, the Police and Crime Commissioner is elected under the supplementary vote system:
A voter can vote for a first and second choice candidate they want to elect.
If a candidate obtains more than 50% of the first choice votes, they will be declared elected.
If no candidate obtains more than 50% of the first choice votes, all candidates except for those in first and second place are eliminated.
The ballot papers showing a first preference for one of the eliminated candidates are checked for their second preference.
Any second preference votes for the remaining two candidates are then added to their first preference votes and the candidate with the most votes is elected.
Multiple RNLI lifeboats launched to aid yacht in distress
THE NEW QUAY RNLI lifeboat has rescued a stricken yacht, with the casualty evacuated by helicopter.
On Saturday (May 8) New Quay lifeboat 'The Frank and Lena Clifford of Stourbridge', was paged at 9.06am by HM Coastguard to search for a yacht in difficulty 10 miles west of Aberystwyth with two persons on board.
The Mersey class lifeboat launched at 9.20am with seven volunteer crew members on board to search for the 9m vessel, which had travelled up from Pembrokeshire, in a moderate south-westerly wind. 
The yacht, on passage from Fishguard to Aberystwyth, was experiencing mechanical and communications problems, and had failed to berth in Aberystwyth marina due to the tide. The severely fatigued crew had raised the alarm by mobile phone when they realised they were in trouble, struggling with the winds and poor visibility.  
Daniel Potter, New Quay RNLI Coxswain said, "We proceeded to the position given but on arrival another position was given 10 miles further north, and then again 5 miles north east. We searched for over an hour for the vessel as they had become lost in the deteriorating weather conditions. Barmouth lifeboat was also requested to launch but stood down as we located the vessel.
"When we located them, we had to act quickly as we found her close to shore and in danger of going aground on the reef near Tywyn. I had one opportunity and we took it, we set up a tow and pulled her into deeper water.
"We then requested to launch Aberdyfi's lifeboat to assist us with getting crew on board as we had concerns over the health and wellbeing of the stricken vessel's crew. Two volunteer crew from Aberdyfi and one from New Quay boarded the yacht. They assessed the casualty and it was decided as a matter of urgency to evacuate one of them. We requested an immediate helicopter evacuation, and HM Coastguard Rescue Helicopter 936 arrived and transferred the casualty to Ysbyty Glan Clwyd.
"It was quite an ordeal for the yacht, but it wasn't over as we had to get the last of the crew members and the boat to safety. Aberdyfi lifeboat then transferred another one of our crew onto the yacht when they took theirs off and returned to station, and we began the tow to Aberystwyth.
"On approach to Aberystwyth we requested assistance from Aberystwyth lifeboat who launched and met us outside the harbour to transfer the tow into the marina, and to deliver us much needed supplies, fish and chips!
"We then headed home and returned to New Quay by 6pm, nine hours after launching. It was a very long day in difficult conditions. However, it was a fantastic effort by everyone, and we want to say a big thank you to all lifeboats and crew involved, and the helicopter. It was an amazing team effort by all."
Roger Couch, New Quay RNLI Operations Manager added, "We would like to give our thanks to all the lifeboat stations involved. It was a great joint endeavour by Cardigan Bay lifeboat stations. The RNLI is the charity that saves lives at sea and our volunteer crew are on call 24/7. Remember if you find yourself or see anyone else in trouble at sea or on the coast call 999 and ask for the Coastguard."
Update on local vaccinations for residents aged 18 to 39
ALL adults aged 18 to 39 living in Carmarthenshire, Ceredigion and Pembrokeshire will be offered Moderna or Pfizer BioNtech for their first COVID-19 vaccine, Hywel Dda University Health Board can confirm.
Today's announcement states, as a precaution, unvaccinated adults aged 30 – 39 years who are not in a clinical priority group at higher risk of severe COVID-19 disease, will be offered an alternative to the Oxford AstraZeneca COVID-19 vaccine, where possible. This is already the case with adults under 30 years.
Fewer than 200 people under 39 are booked to receive a first Oxford AstraZeneca vaccine at the Picton Centre on Saturday 8 May. The health board is making every effort to contact everyone affected to offer a new appointment at a session offering the Moderna or Pfizer BioNtech vaccine.
All mass vaccination centres in Carmarthenshire, Ceredigion and Pembrokeshire will provide the Moderna, Pfizer BioNtech and Oxford AstraZeneca vaccines. Please attend your appointment as planned as your clinic will have the appropriate vaccine for your age.
Ros Jervis, Director of Public Health for Hywel Dda UHB, said: "We understand that today's announcement may cause some concern. The Oxford AstraZeneca vaccine is a safe and effective vaccine, cases of blood clots with low platelet counts continues to be extremely rare and is thought to be a reaction to first exposure.  The decision to stop using the Oxford AstraZeneca vaccine in those under 40 who have no clinical risk factors reflects the excellent progress we are making in bringing the pandemic under control and the increased supply of the Pfizer BioNTech vaccine. 
"If you have received a first dose of the Oxford AstraZeneca vaccine without suffering any serious side effects, it is recommended that you should complete the course and receive the second vaccine when invited, irrespective of age, in line with JVCI advice."
The Oxford AstraZeneca vaccine has already saved thousands of lives and remains safe and effective for the majority of the population with over 1 million people have received the AZ vaccine since January.