Education Minister to quit Senedd in May
KIRSTY WILLIAMS, Wales' Education Minister will not stand in next year's Senedd elections.
Ms Williams, who holds the constituency seat for Brecon and Radnorshire was first elected to the then-Welsh Assembly in 1999.
"After much reflection, I have decided not to stand as a candidate in the next election," she said.
Kirsty Williams is highly-regarded and seen as being perhaps the ablest of the current Welsh Cabinet.
Her departure from the Senedd in May could spark a Cabinet reshuffle by Mark Drakeford.
Mrs Williams said: "There is of course sadness in making this decision, but also a strong sense of pride. Above all else, I'd like to thank the people of Brecon and Radnorshire for their support over the last two decades."
Writing to her local constituency party, Kirsty Williams said: "Next May it will have been 22 years since I was first elected to represent the people of Brecon and Radnorshire.
"The local party, and then the constituency, placed its trust in me – a young, female, Welsh Liberal Democrat, new to elected politics and for our new parliament. It remains the proudest day of my political career.
"And for us to keep winning and keep achieving for our community, has been the honour of my life.
"To be the parliamentarian for Brecon and Radnorshire and in Powys is not to own the seat or constituency, it is to be a steward of it – following in the footsteps of Welsh Liberal giants and hopefully being able to pass on and support another generation.
"I know that my pride in being the first female leader of a Welsh political party was shared locally and nationally, and I hope it was a small inspiration to others. Working with my party colleagues in the Senedd, we worked diligently to hold the Government to account.
"Despite being an opposition party, we turned campaigns into policies that changed lives across the country.
"This included the introduction of the Nurse Staffing Levels Act and the Pupil Development Grant which continues to support our most disadvantaged pupils."
Kirsty Williams said it had been "an immense honour to serve my country as Education Minister".
"Every day I have been inspired and uplifted by the shared commitment across the country to be ambitious for all our learners," she said.
"'Our national mission' has been the biggest programme of education reform since the Second World War. It has been a nation-wide collective endeavour.
"The support I've received from civil servants, private office, and Ministerial colleagues has been invaluable and unstinting.
"Over the last four years, we have fought to raise standards for all children, to reduce the attainment gap and to get some pride and confidence back into Welsh education. Working together,
our improved performance in national and international assessments, radical student support changes and investment in teachers, is proof that education is truly Wales's national mission. Being
the family of a politician is never easy. I must thank my husband and three wonderful daughters for the patience, and at times resilience, that they have shown over these years.
"My late parents started the interest in politics and current affairs with lively debate around the kitchen table, and I know they would be proud of how their granddaughters are already strong independent women with their own opinions!
"It is with them in mind that, after a great deal of thought and reflection, I have decided not to stand as a candidate at the next Senedd election. The next candidate, and the Welsh Liberal Democrats, will have my abiding support and I will be out there campaigning as ever.
"There is, of course, sadness in making this decision, but also with a sense of achievement and pride. Above all else, I would like to thank the people of Brecon and Radnorshire for their support over the last two decades. Diolch o Galon. I may be biased, but I am in no doubt that our constituency is truly the greatest anyone could have the privilege of representing."
New Director joins the Open University in Wales
ON NOVEMBER 27, The Open University in Wales welcomed Ben Lewis as its new Director.
Ben joins the OU in Wales from Cardiff University where he was Director of Student Life. He succeeds Louise Casella who retired in June.
David Price had been the OU in Wales' Interim Director until Ben's arrival.
Ben Lewis said: "The Open University is synonymous with the idea of lifelong learning. At its heart is the belief that education should be available to people wherever they are, and whatever their circumstances. It's an exciting time to be joining the OU in Wales – our student numbers have never been higher, with government and decision makers recognising the value of part-time flexible higher education.
"I thank David Price for his stewardship during the interim period, and for the welcome I've received from colleagues, students and stakeholders. It's a privilege to be joining this team, and I look forward to playing my part in the next steps of the university's future."
President of The Open University Student's Association (OUSA), Swansea-based Margaret Greenaway added:
"We want students to have a say in how their university is run, regardless of their background or where they live. We're proud of the positive relationship OUSA has with the OU in Wales, and we're sure this will continue during Ben's time as Director. A big welcome to him to the OU family!"
Pembrokeshire school devastated by fire unlikely to reopen before September 2025
A PEMBROKESHIRE school, devastated by fire just over a year ago, is unlikely to see pupils back at their desks before September 2025, councillors heard.
Manorbier Church in Wales VC School and its adjoining schoolhouse was severely damaged by a fire on October 11 of last year, which broke out in the school roof space.
Pupils and staff were successfully evacuated with no injuries, and a 'school from school' was set up in Jameston Village Hall, after a brief period of sanctuary at the nearby Buttyland caravan site.
Members of the council's schools and learning overview and scrutiny committee, meeting on November 23, heard an update on works to rebuild the school and adjoining schoolhouse.
Director of Education Steven Richards-Downes said works to reinstate the building had commenced after 'in principle' decisions by the council's Cabinet, hampered by "the complexities of ownership around the building and adjoining school house," both owned by the Diocese of St Davids.
He said a phased approach to reinstate the buildings started with preliminary works – now completed – starting in early October, with second phase works, through the diocese and its insurers, expected to be finished by the end of the year, before being handed back to the council for the third phase.
Councillor Alistair Cameron asked when the pupils could return to the rebuilt school, a September 2024 date having previously been mooted, Mr Richard-Downes saying it was "unlikely to be September 2024".
Councillor David Howlett said an item from an earlier committee report, which stated surplus spaces at the school had risen from just under 55 per cent to 72 per cent from 2022-'23, describing the figures as "stark," adding: "If that continues it paints a very worrying picture".
He was told there was no evidence of any significant change as a result of the fire; with families moving in as a result of a nearby housing development expected to increase numbers.
Local member, Cllr Phil Kidney thanked officers for their work, adding he hoped two new housing developments in the area would bolster school numbers.
On the subject of the school reopening, he said: "It's not going to be 2024 to be honest, we're looking more like September 2025; I cannot impress enough the importance that the school has in the community, we've lost a shop and one of the pubs is closed in the winter.
"The staff there are so devoted, there's no question about the level of teaching the children are receiving, they go to Greenhill [comprehensive] they flourish."
He said it was important the school was kept to the fore: "If we can just ask you to keep this on the agenda and keep it in the headlines so Manorbier is not forgotten."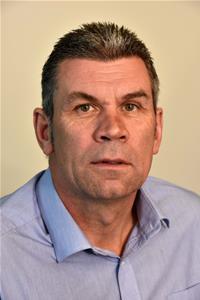 Rev John Cecil of the diocese said the school, due to be inspected next week, was "exceptionally well run under very difficult circumstances," adding there was "certainly a desire to work with [the council] and see that school reopened".
Cllr Kidney was the last to speak on the update, saying parents were "obviously anxious" about the timescale for works, adding: "But now there is some scaffolding coming out of the ground they're confident something is going to happen, it all seems to be going the right way."
Excellent progress on construction of new Welsh medium primary school
A CELEBRATION event was held on the site of the new Ysgol Gymraeg Bro Penfro in Pembroke on Tuesday 14th November to mark the reaching of the highest point of the building, traditionally known as the 'topping-out' ceremony.
The event was hosted by Morgan Sindall Construction & Infrastructure Ltd and attended by pupils and staff from Ysgol Gelli Aur, the Executive Headteacher of the new school, governors of the Temporary Governing Body of Ysgol Bro Penfro, Cabinet members, senior Council officers, and a members of the project team.
Pembrokeshire County Council's Cabinet Member for Education and the Welsh Language, Cllr Guy Woodham, said that he was extremely pleased with progress at the site.
"Whilst I was unfortunately unable to attend the ceremony, my Cabinet colleagues have shared with me their experience, and the excellent progress being made on the new school.
"I am particularly pleased that the project remains on budget, and on programme, which means that Ysgol Gymraeg Bro Penfro will be in a position to admit pupils in September 2024."
Members of the school's Temporary Governing Body expressed their delight with the building.
The Executive Headteacher of Ysgol Bro Penfro, Mr Dafydd Hughes, confirmed that pupils and staff thoroughly enjoyed the event and that everyone connected with the school is excited at the prospect of moving to the new school next year.
"The fact that a new Welsh medium primary school is being built in Pembroke is an important and exciting development on so many levels.
"As Executive Headteacher of Ysgol Bro Penfro I am committed to ensure that when the school opens its doors in September 2024 every pupil will be given opportunities to flourish and thrive in a welcoming Welsh medium setting. I am also focused on ensuring that the whole Pembroke community takes great pride in the school."
Pupils were very excited to see the new school. Among the comments received were: "We loved signing the steels, it will help us to remember when we came here when our school was being built and we will always be a part of our new school"
"I can see that everyone is working really hard to build us our school. The school is so much bigger than we expected and can't wait to start learning in our new classes".
The project is being funded by Welsh Government and Pembrokeshire County Council, and will provide a significant contribution to the Council's Welsh in Education Strategic Plan.