'Can I be your slave?' man asks accused Pembrokeshire councillor
A PEMBROKESHIRE man has challenged a local councillor accused of racist slavery comments, asking if he would like him to be his 'slave'.
Haverfordwest man – and African American – Randell Turner has reacted with shock at a recent recording where Cllr Andrew Edwards of the town's Prendergast ward is alleged to have said every white man should have a black slave.
Conservative county councillor Edwards is claimed to have made the comment in a recording, which it is said was then sent to Pembrokeshire County Council's monitoring officer.
He has since withdrawn from the political group and referred himself to the Ombudsman.
Cllr Edwards, a former magistrate and a school governor, is also now listed as not belonging to any political group, with reports he has been suspended from the party.
It is understood that Cllr Edwards was identified by his voice.
Welsh publication Nation Cymru reported that several people had identified Cllr Edwards from his voice, transcribing the recording as saying: "Nothing wrong with the skin colour at all.
"I think all white men should have a black man as a slave, or black woman as a slave, you know.
"There's nothing wrong with skin colour, it's just that they're lower class than us white people, you know."
The context of the recording itself is not yet known.
Sharing a TikTok video expressing his feelings, Randell said he was "appalled and disgusted to live in a county where this man held three positions of stature and he feels it's okay to think that every white man needs a slave."
In his impassioned but dignified response to the alleged comments, he asks: "So, Mr Edwards, I'm gonna ask you: Can I be your slave?
"Would you like me to come to yours in shackles and use me? Would that be okay with you?"
Mr Turner then calls on Cllr Edwards to resign, warning that otherwise there will be no alternative other than to hold a peaceful demonstration in the town.
He finished: "Sir, you have brought shame, not only on your own family, but this whole entire county."
Speaking to the Local Democracy Reporting Service, Randell said: "The reason I feel so strongly about this is my family were used as slaves and being brought up in Pembrokeshire I understand how it feels to be a minority.
"I feel this story needs wider distribution to prevent people in these positions thinking they can get away with this behaviour. It is not acceptable and should be portrayed as more serious than it currently is."
Cllr Edwards, who became a councillor after last year's elections, neither confirmed nor denied the allegation when previously asked by the Local Democracy Reporting Service.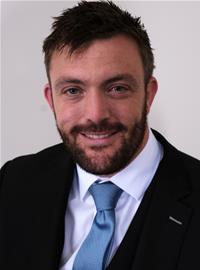 Andrew Edwards (Pic supplied )
Instead, he confirmed a previously-issued written statement which said: "I am aware of such serious allegations being made against me.
"This is why I have self-referred to the Public Services Ombudsman for an independent evaluation."
Cllr Edwards, a self-employed hairdresser, licensee of a Swansea pub and restaurant, and a Freemason, added: "It is now in the hands of legal experts and the Ombudsman.
"It would be unfair on the process for me to comment now."
Cllr Edwards was given the opportunity to respond to the issues raised by Mr Turner.
A Pembrokeshire County Council spokesman has previously said: "We are aware of an allegation being made and have referred the matter to the Ombudsman. It would be inappropriate to comment further at this stage."
It is expected any decision on a formal investigation by the Ombudsman will take several weeks, with the matter either referred to the county council's own standards committee or to the Adjudication Panel for Wales.
Sensational music event thrills the crowds at Scolton Manor
AN UNFORGETTABLE evening of live jazz, classical, rock, and film score music captivated hundreds of attendees at the enchanting 'Music at the Manor' event. Presented by the esteemed Pembrokeshire Music Service, this musical extravaganza took place amidst the picturesque grounds of Scolton Manor, offering young talents from across the county a chance to showcase their skills in a relaxed setting. For many of these budding musicians, it marked their debut performance in front of a live audience.
The event witnessed outstanding displays of talent from a myriad of ensembles, including the County Brass Band, Training Orchestra (featuring the Second Steps group), Concert Band, Rock and Pop bands, Rock Strings, Symphonic Wind Band, Pembrokeshire's Community Choir, and the esteemed Cleddau Chamber Orchestra.
Among the delighted attendees was Patricia Mawuli Porter OBE, who attended the event alongside her family. She described the evening as "a wonderful demonstration of community, music, family, caring, and just what an amazing part of the world we live in." Mawuli Porter OBE was particularly impressed with the diversity of performances, ranging from youth bands belting out energetic renditions of songs like 'Teenage dirtbag' to the majestic classical and movie-themed scores, which added depth and variety to the musical tapestry.
"We can only applaud the team at Pembrokeshire Music Service for putting on the most incredible community event and look forward to next year's event with great anticipation!" Mawuli Porter OBE exclaimed with enthusiasm.
Cllr David Simpson, Leader of Pembrokeshire County Council, expressed his gratitude to the Pembrokeshire Music Service team for organizing such an excellent evening of entertainment. "It was a lovely concert, and so good to see it full of local people enjoying themselves," he commended. "Credit must go to the brilliant participants, be they playing an instrument or singing songs, they were excellent."
Vivienne Ward from the Newport Music Society also offered her congratulations to all the performers, acknowledging the impressive talent pool in Pembrokeshire. "What impressive young musicians there are in Pembrokeshire, and what a wonderful variety of different bands/orchestras are available for the young to choose from; they are indeed lucky," she praised.
The event drew overwhelming praise from parents in attendance, with one parent raving, "The standard was exceptional, and a wonderful evening was had by one and all. Well done, everyone! A massive thanks to everyone involved, and much appreciation to Pembrokeshire Music Service – we are so lucky to have you!"
Philippa Roberts, the head of the Music Service, expressed her heartfelt gratitude to all those involved in making 'Music at the Manor' a resounding success. "A huge thank you from the team at Pembrokeshire Music Service to everyone who contributed to making Music at the Manor a wonderful community event," Roberts said. "Working in partnership with Valero, the Friends of Pembrokeshire Young Musicians, and Scolton Manor, I am grateful to everyone who helped and supported the performers to provide a special evening of live music."
With its remarkable performances and celebration of musical diversity, 'Music at the Manor' proved to be an extraordinary showcase of Pembrokeshire's vibrant musical talent. As the echoes of this magnificent event fade away, anticipation for next year's edition continues to build, promising an even more spectacular musical spectacle for all to enjoy.
Police confirm body found in search for Huw
POLICE said than a frantic search for Haverfordwest man Huw Phillips, 56, has been called off after the body of a man was discovered in the local area.
Police said that Huw's family have been informed and are being supported by specialist officers, after the body was found on Saturday afternoon (Jun 3).
Huw's son Kenes Phillips took to Facebook to share the sad news. He bravely said: "Thank you everyone for sharing, showing your love, helping with the search and just doing whatever you could to offer the slightest bit of help.
"But unfortunately, my father was found dead."
Huw's good friend Mark Llewhellin paid tribute. He said: "Huw was born of the 4th July. He was kind, sensitive, a good laugh and one of my very best friends.
"I was lucky to have had him as a close friend.
"See you on the other side my friend, but not yet, not yet."
The police posted on Facebook at 4pm on Saturday saying: "Thank you for sharing our appeal earlier to find Huw, missing from Haverfordwest.
"Sadly, a body has been found during the search, and therefore we are no longer appealing for information.
"Officers are supporting Huw's family and our thoughts are with them all."
Earlier on Saturday, the police found Huw's abandoned car in Clay Lane, Haverfordwest.
Ironman Wales in Tenby becomes second UK event of 2023 to sell out
THE HIGHLY anticipated Ironman Wales event in Tenby has captured the attention of athletes, becoming the second race in the UK this year to sell out well before the season kicks off.
Scheduled for Sunday, September 3, Ironman Wales has now joined the Ironman 70.3 Swansea event as another sold-out competition in the country.
The popularity of the Tenby event should come as no surprise, as it was the only race to feature in the top 10 globally in eight out of nine categories in the Ironman Athletes' Choice Awards. This prestigious recognition is based on votes cast by triathletes from around the world.
The captivating swim start at Tenby's North Beach, the picturesque bike ride passing by stunning beaches and castles, and the exhilarating finish line on streets filled with cheering spectators have made Ironman Wales internationally renowned.
Sam Brawn, the regional director for UK & Ireland at The Ironman Group, expressed his delight, saying, "Ironman Wales continues to attract a tremendous following from our athletes year after year. Whether they are returning participants or newcomers eager to conquer this iconic course, the event remains immensely popular."
"We take great pride in the fact that the race has been acknowledged as one of the finest events in the global Ironman Series. It secured a spot in the top 10 across multiple categories in the Global Ironman Athletes' Choice Awards, including a second-place ranking in both the 'Will Recommend To A Friend' and 'Overall Host City' categories."
For those who were unable to secure a spot in Tenby, Mr. Brawn highlighted Ironman Cork as an exciting alternative. The inaugural event in Cork, Ireland, took place last year and will return on Sunday, July 2.
"It's also thrilling to witness the growing popularity of new races, such as the festival weekend in Cork, Ireland, which has gained traction after just one year," he added.
The official UK and Ireland race season will commence in just over a week with Ironman 70.3 Staffordshire on June 11. The organizers eagerly anticipate an exhilarating few months of racing, regardless of the weather conditions that the British summer may bring.
Athletes looking to complete their race calendar for 2023 can find the full schedule of events at ironman.com/races.