Major milestone for new Narberth Library thanks to Welsh Government funding
A BRAND new library building for Narberth is due to be handed over to Pembrokeshire County Council by local developers next month, with the new facility due to open in early 2024.
Andrew Rees and Charles Salmon of Narberth Old School Developments are due to hand over the premises located next to the old Narberth primary school site – now known as The Hwb, by early June, ready for fitting out.
It will continue to be run by the successful three-way partnership of Pembrokeshire's Library Service, the Friends of Narberth Library and Narberth Town Council.
Developer Charles Salmon said they were pleased to be involved in the library development, adding that the building has been provided free of charge and on a peppercorn rent for the next 125 years.
The work will be funded by a combined Welsh Government Capital Transformation Grant of £149,997 secured by the library service and £30k Section 106 funding.
"It's great news that Welsh Government are once again investing in Narberth," said Cllr Rhys Sinnett, Cabinet Member for Residents' Services.
"The Capital Transformation grant will allow us to not only provide a modern, welcoming library but also introduce new technologies which will significantly extend the opening hours.
"I am delighted to see that the hard work of the partnership put together to bring this project to life is finally being recognised and rewarded with this funding."
Chair of the Friends of Narberth Library, Cllr Marc Tierney, said: "The news that Narberth Library has been successful in receiving Welsh Government funding is a really positive step forward for the town.
"As a voluntary organisation, the Friends of Narberth Library has worked hard to support Pembrokeshire County Council in keeping the St James Street library open and part of the community over the last seven years.
"The new building just off the Towns Moor Car Park brings the library into the heart of the town, easily accessed by local buses and by car and in a location that for many is the start of their journey in discovering what Narberth has to offer.
"I'm looking forward to the Friends of Narberth Library exploring new opportunities to collaborate with others so that the library becomes a renewed focal point and a real community asset that confirms Narberth as a great place to live, work and visit in Pembrokeshire."
Narberth Mayor, Cllr Elizabeth Rogers, said: "About time! It will be a huge benefit to the town and the surrounding area to have a new modern library on a car park which creates easy accessibility.
"This is something the town has campaigned for, for a long and hard time and it's wonderful that it is now within our reach.
"The many hours that have been given by many behind the scenes is amazing but that is what Narberth does. I thank everyone involved."
At the moment, Narberth Library is temporarily situated at the Lee Davies Day Centre due to essential building repairs taking place at its home in St James Street – but will hopefully re-open at St James Street in June.
For more info, including current opening hours, please see: https://www.pembrokeshire.gov.uk/pembrokeshire-libraries/narberth-community-library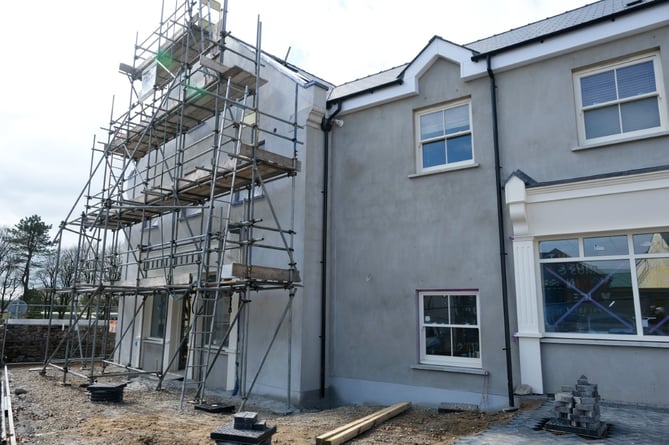 The exterior of the new library building next to The Hwb in Narberth. The library is due to open next year (Pic supplied )
Community groups invited to apply for Co-op funding support as deadline approaches
LOCAL community groups and charities are invited to apply to receive funding and support from Co-op's Local Community Fund, with applications open up until 11 June for organisations to be considered for the next round of funding.
Co-op's Local Community Fund has supported over 30,000 local community projects across the UK since its launch in 2016, and charities and organisations, who play a vital role in the wellbeing of communities, can apply up until 11 June to be considered for the next round of funding.
The Co-op's support comes at a much-needed time, with insight from over 3,000 local community causes across the UK showing that more than eight-in-10 (84%) of local groups have seen a jump in demand for their services through the cost-of-living crisis.
Co-op is looking to continue to support projects that have an impact and make a difference locally and, align with Co-op's vision of co-operating for a fairer world, with a focus on:
• Bringing people together to access food: Such as community fridges, allotments, and cookery classes
• Helping to improve people's mental wellbeing: Including sporting activities and, clubs and societies that promote mental well-being and build social connections
• Creation of opportunities for young people to be heard and make a difference: For example, youth groups and forums that work to build confidence, employability and, life skills
• Enabling communities to save and restore nature or tackle climate change: With examples including community gardens, tree planting, energy schemes, re-wilding, and sustainable transport
Last month, (April) Co-op also announced that it was aiming to attract one million active new Members over the next five years, and launched new member price benefits within its food business to help its members save more. Members also make a difference simply by shopping at Co-op. By buying selected Co-op products and services, members earn rewards for themselves and for their community too – with £117m raised over the last seven years to support local causes and community projects across the UK.
Rebecca Birkbeck, Director of Community and Member Participation at Co-op said: "Co-op is committed to making a real and tangible difference in our local communities, while creating significant value for Members through our Membership scheme. Our Local Community Fund is more relevant than ever as the cost-of-living crisis is making it incredibly challenging for many local organisations. We know that our members want to support the communities they live in, and Co-op membership is a powerful way for people to do this, simply by shopping at Co-op – with our funding support enabling local organisations to provide valuable services and support to people at a time when communities need it most."
More information about the benefits of Co-op Membership including its exclusive offers and deals is available by visiting https://www.coop.co.uk/membership
Community groups interested in applying to Co-op's Local Community Fund, should visit https://causes.coop.co.uk/
New venue for the highly anticipated Pembrokeshire Classic Car Show
PEMBROKESHIRE classic car enthusiasts will be thrilled to learn that this year's highly anticipated Classic Car Show will be held at a new and exciting location. The Pembrokeshire Classic Car Club, known for organizing this popular event, has decided to move the show to Carew Airfield. The event is scheduled to take place on Saturday, June 3rd, 2023.
The decision to relocate the event came about due to certain challenges with public parking at the previously favored Scolton Manor venue. By shifting the show to Carew Airfield, organizers hope to alleviate any parking difficulties and provide a more convenient experience for attendees.
Classic car enthusiasts from all over Wales and beyond can expect a spectacular display of various classic vehicles at the show. From vintage and classic cars, including some American models, to modern-day marvels, there will be something to captivate every car lover. In addition to cars, the event will showcase motorcycles, tractors, military vehicles, and commercial vehicles.
The Classic Car Show isn't just about vehicles; it offers a complete day of fun for the whole family. Attendees can explore attractions such as the West Wales Model Boats, children's rides, a car boot sale, and an auto jumble. Moreover, a variety of craft and trade stalls will be present, offering an opportunity for some shopping. The show will also feature charity stalls, including Paul Sartori and The Wales Air Ambulance, allowing visitors to contribute to worthy causes. To add to the excitement, both the Police and the 223rd Transportation Army Squadron will be in attendance, showcasing their impressive vehicle displays.
To further enhance the experience, the Pembrokeshire Classic Car Club will be running a raffle during the event. Hunger and thirst will not be an issue, as a selection of food outlets will be available, offering hot and cold food and drinks, ice cream, Welsh cakes, and even a public bar. St. John's Ambulance will also be present to provide necessary medical support.
In addition to all the fantastic attractions at the show, attendees will have the opportunity to visit the nearby wartime museum, which will be open for exploration on the day.
The Pembrokeshire Classic Car Club is thriving, boasting over one hundred and eighty members. The success of the show in previous years has enabled the club to donate substantial sums to local charities. This year, the selected beneficiaries are Paul Sartori, Wales Air Ambulance, and Pembrokeshire Care Share & Give.
The organizers extend their gratitude to the club members, Gravells Kia of Narberth for their support, the participants, stallholders, car booters, landowners, FRF Toyota for providing trophies, and, of course, the public for attending. It is their collective efforts that make this event possible year after year.
The Classic Car Show will welcome the public from 10:30 am onwards on Saturday, June 3rd, and will conclude at 4 pm. So, mark your calendars and head over to Carew Airfield on the A477 for a truly unforgettable "Classic" day out.
North Pembrokeshire community exceeds fundraising target to purchase local pub
CRYMYCH, the tight-knit community in North Pembrokeshire, is celebrating a significant milestone in their journey to acquire the beloved local pub. The villagers have successfully raised an impressive £191,000 within a remarkable eight-week period since launching their community share offer on April 1st. This achievement far surpasses their initial target of £175,000, which was set as the necessary amount to proceed with their mission to revive the Crymych Arms, which has remained closed for the past 18 months.
The local football club, established just three years ago, has taken the lead in this initiative by registering as a mutual society cooperative. By doing so, they have been able to issue shares and rally support in their efforts to purchase the pub and transform it into a vibrant community hub, doubling as the new club house. This unique concept combines the functions of a pub, a club, and a hub, giving birth to the ingenious notion of a "Pubclubhub."
The football committee members eagerly anticipate the outcomes of grant funding bids, which will provide the final piece of the financial puzzle needed to acquire and reopen the community pubclubhub by this August. To date, several hundred people have invested in £100 shares, with many purchasing them as thoughtful gifts for supporters of the idea of community-owned pubs. Additionally, numerous football enthusiasts are buying shares to lend their support to local grassroots sports. By owning a share, individuals not only become part owners of a pub but also stakeholders in the football club, as the funds raised through share purchases will be utilized to acquire the historic pub in North Pembrokeshire.
The closed pub is listed at a full asking price of £275,000, and the football club committee continues to welcome new members who are interested in acquiring the £100 shares. Those intrigued by this venture and the prospect of becoming co-owners of a pub and football club can visit www.cpdcrymych.cymru for the share offer prospectus and to learn more about the community investment, which offers a promising 3% gross interest per year.
Furthermore, the next public meeting, open to anyone seeking more information about this exciting community venture, is scheduled for Wednesday, June 14th, at 7 pm. The meeting will take place at Crymych market hall, providing an opportunity for interested individuals to engage with the project's leaders, ask questions, and further familiarize themselves with the vision and goals of this community-driven initiative.
Crymych's remarkable achievement in surpassing their fundraising target exemplifies the power of community spirit and highlights the determination of its residents to preserve and revitalize their cherished local pub. The collective effort to transform the Crymych Arms into a thriving pubclubhub not only ensures a vibrant social gathering place but also strengthens community bonds and supports grassroots sports.