£3 million from Enigma codebreaker for Aberystwyth University research
AN ABERYSTWYTH graduate who contributed to the breaking of the German Enigma code during the Second World War has left over £3m to her former University.
Originally from Galgate near Lancaster, Joy Welch studied Economics, Geography and Philosophy at Aberystwyth and graduated in 1950.
In 1943, aged 17, Joy volunteered for the Women's Royal Naval Service and the work took her to Eastcote, an outpost of Bletchley Park.
There she operated the machines used to break the German Enigma code.
In 1988 she established the Joy Welch Educational Charitable Trust and the University became a regular beneficiary, reflecting her fond memories of her time at Aberystwyth.
Her long-term support was recognised in 1998 when she was awarded an Honorary Fellowship by the University. She died in 2017.
The new endowment totalling £3.15m from the Joy Welch Educational Charitable Trust was announced today, Friday 13 October, by Vice-Chancellor Professor Elizabeth Treasure at the University's annual Founders Day celebrations.
With the first call for applications due in spring 2024, the fund will provide a minimum of 12 research grants a year for postgraduates and postdoctoral researchers across all disciplines at Aberystwyth University.
Professor Elizabeth Treasure said; "We are absolutely delighted that the ongoing relationship with one of our alumni has supported researchers across disciplines and ranks for so many years. The endowment will make sure that this support continues. In a world where research funding programmes change, favouring certain academic fields and types of projects at different times, the Joy Welch Fund will offer opportunities to all our researchers and so make a valuable difference".
In addition to supporting postgraduate and postdoctoral research, the Trust has also contributed £170,000 towards establishing the Joy Welch Seminar Room in the Old College.
Research funded by the Joy Welch Educational Charitable Trust
Over the years, the Trust has provided over £400,000 to fund research at Aberystwyth University.
Dr Otar Akanyeti from the Department of Computer Science, Dr Sarah Dalesman and Dr Sebastian McBride from the Department of Life Sciences, and Dr Alice Vernon from the Department of English and Creative Writing are amongst those who have received support in recent years.
Dr Otar Akanyeti's work focuses on care for stroke sufferers. Support from the Joy Welch Trust has enabled Dr Akanyeti and his team to secure more than half a million pounds of external funding and are currently running two clinical studies in Aberystwyth and Turkey.
Dr Akanyeti said; "The support from the Joy Welch Trust over the years has enabled us to establish a new research group focusing on improving stroke care pathways using technology and artificial intelligence. We were able to prototype a new gait monitoring technology, engage with stroke patients and their families, disseminate our work in Welsh Stroke Conference and establish new collaborations across the UK and internationally."
Dr Sarah Dalesman and Dr Sebastian McBride from the Department of Life Sciences have been studying the cognitive abilities of dogs and how they can impact the safety and welfare of dog training.
Dr Dalesman said; "The Joy Welch funding this year has enabled us to buy equipment and employ a student who now plans to pursue a masters' in this field. It has also led to future research plans to study how, using non-invasive techniques, stress affects dogs' cognitive ability and performance."
Dr Alice Vernon from the Department of English and Creative Writing received a Joy Welch grant in 2021-22 for her project 'Inner Workings: How We Understand and Imagine the Inside of the Human Body'.
Dr Vernon said; "The support of the Joy Welch fund allowed me to conduct archive research in London for the first time, which really helped develop my skills as a researcher and writer. As a result of this work, I was selected to give a lecture at Hay Festival in 2022 which has been one of the high points of my career so far. This was my first grant success and was influential in encouraging me to submit further funding applications. As such, in 2023 I was awarded a University Research Fund award, and I will now be applying for external funding with the Leverhulme Trust and British Academy."
Pictured: Vice-Chancellor Professor Elizabeth Treasure (centre) and Dr Eva De Visscher, Trusts and Foundations Manager at Aberystwyth University (second from right) mark the new Joy Welch endowment with researchers who have received support from the Trust (left to right) Dr Valerie Rodrigues (Life Sciences), Dr Alice Vernon (English and Creative Writing), Professor Stephen Tooth (Geography and Earth Sciences), Tracy Knight, Dr Sarah Dalesman and Dr Rhys Thatcher (Life Sciences), and Dr Rachel Cross (Physics).
Wales's education performance falls to lowest-ever level
THE ORGANISATION of Economically Developed Countries (OECD) published its latest report on educational attainment (PISA) on Tuesday, December 5.
It shows students in Wales have slipped even further behind the other UK nations in a worst-ever set of results.
In Mathematics, the fall in attainment is the equivalent of a whole year's education in the subject. Test marks also fell sharply in science and English.
Jeremy Miles, Wales's Education Minister, said the results showed how the hangover from the pandemic affected students' education.
His observation had clear merit, as PISA results fell worldwide, with attainment falling in all but ten of eighty-one OECD members.
Wales's results put its education at the same level as Norway and the USA, and the nation's results fell the same number of points in England and Scotland.
WHAT IS PISA?
PISA is a worldwide study by the Organisation for Economic Co-operation and Development in member and non-member nations intended to evaluate educational systems by measuring 15-year-old school pupils' academic performance in mathematics, science, and reading in PISA.
The PISA assessment is regarded, with some misgivings among educational experts, as a guide to the performance of education policies across 79 participating countries.
When the OECD last published the PISA report in 2020, Wales had caught up with the international average in all subjects.
In the new report, all home nations' attainment fell, but Wales's fell further than others.
MINISTER BLAMES PANDEMIC
Education Minister Jeremy Miles said: "Before the pandemic, we saw a strong improvement in literacy and numeracy standards in Wales. Sadly, it is clear that the pandemic has derailed some of this improvement.
"We have already started on a path of driving up standards in reading and maths, and we won't let these results knock us off track.
"At the end of November (see this week's Education section), we launched literacy and numeracy plans to help support learning and raise standards in these key areas.
"I have also published the first national report on our children's reading and numeracy performance. I will do this annually to track recovery.
"We supported our schools and learners through the pandemic. We will stand together and support them now."
Since 2022, schools in Wales have started implementing major long-term reforms, with the new Curriculum for Wales being taught and rolled out sequentially to reach all learners in all schools from 2026/27.
Jeremy Miles continued: "Our long-term education reforms have started after years of planning and, as the OECD says, improvement to education takes time.
"We have taken a once-in-a-generation opportunity to revolutionise the quality of education in Wales and I'm confident we will deliver huge benefits for our young people."
CONSERVATIVES CRITICISE "WIDENING GAP"
Following the usual hackneyed jibe at the Welsh Government's plans to increase the number of Senedd members, the Welsh Conservative Shadow Education Minister Laura Anne Jones MS said: "The results are not a shock when we have a Labour Government which has so little regard for our children's future that they cut the education budget this year. All governments should give pupils and teachers the tools to do their best and thrive.
"After 25 years of Labour running Welsh schools, we have a widening attainment gap. Sadly, again, Wales languishes at the bottom of international league tables.
"The Labour Education Minister needs to get a grip of his department and give our young people the start in life they deserve. He can start by getting 5,000 more teachers back into our classrooms after years of declining numbers and the desperately needed money to support growing ALN numbers in mainstream education."
PLAID HIGHLIGHTS CHILD POVERTY
Plaid Cymru has criticised the handling of child poverty rates in Wales, which it says has contributed to the results, leading to high absenteeism in Welsh schools.
Plaid Cymru's education spokesperson, Heledd Fychan MS, said: "The PISA results published should be a wakeup call for the Welsh Government.
"Too many young people in Wales are living in poverty, pupil absences are unacceptably high, and many schools are facing a significant deficit in their budgets. Despite the hard work and dedication of an overstretched workforce, the pupil attainment gap is widening, and we cannot ignore the link between poverty and today's disappointing results.
"Every child, no matter their background, should have an equal chance of success.
"We need more than platitudes and excuses from the Minister for Education in response to these results.
"Wales had a pre-Covid recruitment crisis in the education sector, the magnitude of which Ministers failed to grasp.
"Continuing and entrenching cuts to education will do nothing to put Wales on a path towards a turnaround in our PISA results."
EDUCATION UNION UNSURPRISED
Emma Forrest, NEU's Assistant General Secretary Regions, Wales, and Legal Strategy, said: "NEU Cymru members won't be shocked by the OECD's PISA results. They don't tell us anything the education workforce doesn't know – that across most OECD countries, schools need support in a post-pandemic situation.
"Comparison is difficult. We are particularly concerned that these results do not represent many countries' full cohort of learners. Whilst this is understandable, it makes comparisons less meaningful in the context of the pandemic.
"Here in Wales, we have the new Curriculum for Wales, which none of the cohort tested in PISA have been taking.
"Suppose the Welsh Government wants to take anything from these results. In that case, it is an opportunity to ensure that they have a qualifications system which does not focus on tests and time-limited exams but gives young people a real chance to show what they can do.
"We will continue to work with the Welsh Government on the critical aspects of workload and professional development for the workforce, and how we can best support the wellbeing and expertise of staff, to ensure they are able to focus on children and their learning."
New Director joins the Open University in Wales
ON NOVEMBER 27, The Open University in Wales welcomed Ben Lewis as its new Director.
Ben joins the OU in Wales from Cardiff University where he was Director of Student Life. He succeeds Louise Casella who retired in June.
David Price had been the OU in Wales' Interim Director until Ben's arrival.
Ben Lewis said: "The Open University is synonymous with the idea of lifelong learning. At its heart is the belief that education should be available to people wherever they are, and whatever their circumstances. It's an exciting time to be joining the OU in Wales – our student numbers have never been higher, with government and decision makers recognising the value of part-time flexible higher education.
"I thank David Price for his stewardship during the interim period, and for the welcome I've received from colleagues, students and stakeholders. It's a privilege to be joining this team, and I look forward to playing my part in the next steps of the university's future."
President of The Open University Student's Association (OUSA), Swansea-based Margaret Greenaway added:
"We want students to have a say in how their university is run, regardless of their background or where they live. We're proud of the positive relationship OUSA has with the OU in Wales, and we're sure this will continue during Ben's time as Director. A big welcome to him to the OU family!"
Pembrokeshire school devastated by fire unlikely to reopen before September 2025
A PEMBROKESHIRE school, devastated by fire just over a year ago, is unlikely to see pupils back at their desks before September 2025, councillors heard.
Manorbier Church in Wales VC School and its adjoining schoolhouse was severely damaged by a fire on October 11 of last year, which broke out in the school roof space.
Pupils and staff were successfully evacuated with no injuries, and a 'school from school' was set up in Jameston Village Hall, after a brief period of sanctuary at the nearby Buttyland caravan site.
Members of the council's schools and learning overview and scrutiny committee, meeting on November 23, heard an update on works to rebuild the school and adjoining schoolhouse.
Director of Education Steven Richards-Downes said works to reinstate the building had commenced after 'in principle' decisions by the council's Cabinet, hampered by "the complexities of ownership around the building and adjoining school house," both owned by the Diocese of St Davids.
He said a phased approach to reinstate the buildings started with preliminary works – now completed – starting in early October, with second phase works, through the diocese and its insurers, expected to be finished by the end of the year, before being handed back to the council for the third phase.
Councillor Alistair Cameron asked when the pupils could return to the rebuilt school, a September 2024 date having previously been mooted, Mr Richard-Downes saying it was "unlikely to be September 2024".
Councillor David Howlett said an item from an earlier committee report, which stated surplus spaces at the school had risen from just under 55 per cent to 72 per cent from 2022-'23, describing the figures as "stark," adding: "If that continues it paints a very worrying picture".
He was told there was no evidence of any significant change as a result of the fire; with families moving in as a result of a nearby housing development expected to increase numbers.
Local member, Cllr Phil Kidney thanked officers for their work, adding he hoped two new housing developments in the area would bolster school numbers.
On the subject of the school reopening, he said: "It's not going to be 2024 to be honest, we're looking more like September 2025; I cannot impress enough the importance that the school has in the community, we've lost a shop and one of the pubs is closed in the winter.
"The staff there are so devoted, there's no question about the level of teaching the children are receiving, they go to Greenhill [comprehensive] they flourish."
He said it was important the school was kept to the fore: "If we can just ask you to keep this on the agenda and keep it in the headlines so Manorbier is not forgotten."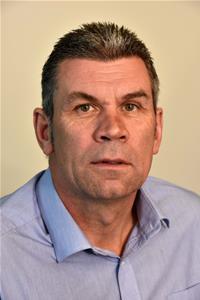 Rev John Cecil of the diocese said the school, due to be inspected next week, was "exceptionally well run under very difficult circumstances," adding there was "certainly a desire to work with [the council] and see that school reopened".
Cllr Kidney was the last to speak on the update, saying parents were "obviously anxious" about the timescale for works, adding: "But now there is some scaffolding coming out of the ground they're confident something is going to happen, it all seems to be going the right way."