Pembrokeshire County Council Leader's Update: Monday 15th June
Pembrokeshire County Council Leader, Councillor David Simpson,
has provided a further coronavirus update for Monday, 15th June, as
follows:
'I hope you all had a nice weekend and managed to spend time with
your family.
'As we start a new week, we have the opportunity to look forward and
consider how things will pan out. I am aware that Welsh Government
will be issuing further updates this week in relation to potential
changes to the current restrictions.
'However, as in any amendment made to Covid-19 regulations by
Welsh Government, the Authority will need to consider the detail and
how we implement changes – especially changes to service delivery
'Any adjustments to services need to be considered in a measured
and planned way. A good example is the recent re-opening of our
Waste and Recycling Centres (WRCs) which was well planned in
advance and resulted in a smooth resumption of the service.
'I am very pleased that we are receiving compliments relating to the
way the WRCs are operating and, more importantly, the positive
feedback being received in relation to the staff operating these sites.
'I do want to highlight the hard work that is currently being done by
the education team to get ready for the reconvening of the school
term.
'This is a huge service area to re-open and I will be giving further
updates as and when matters progress. Our website now has a page
for the public to keep up to date on school changes and there are also
links on this page to the website of each school:
https://www.pembrokeshire.gov.uk/coronavirus-advice-and-
guidance/children-and-schools-transition-to-the-new-normal
'I'm going to conclude today by highlighting that we all need to
continue working together. I do appreciate that this extended
lockdown is frustrating at times but we are on this journey for the
long-term benefit to all.
'My next message will be on Wednesday.
'The following coronavirus-related press releases have been issued
since my previous update on Friday:
 Reminder For Beach Users
https://www.pembrokeshire.gov.uk/newsroom/reminder-for-
beach-users
 Changes To School Hub Booking Systems:
https://www.pembrokeshire.gov.uk/newsroom/changes-to-
school-hub-booking-systems
'Public Health Wales is updating and adding to their resources
regularly. Please find all assets here:
https://phw.nhs.wales/topics/latest-information-on-novel-coronavirus-
covid-19/coronavirus-resources/
'Also, please keep an eye on our newsroom at:
https://www.pembrokeshire.gov.uk/newsroom
'For service updates visit:
https://www.pembrokeshire.gov.uk/emergency-planning/service-
changes
'And to get daily email updates, log onto our website and sign into My
Account at:
https://myaccount.pembrokeshire.gov.uk
'Remember: 'Stay Local. Stay Safe.'
Protest against 'draconian' Police and Crime Bill takes place in Haverfordwest
A SECOND Kill the Bill protest took place in Haverfordwest on Saturday (Apr 17).
One of the organisers told  The Herald: "The new law will be an enormous piece of draconian legislation that includes significant expansion in police powers to curtail the right to protest. The right to peacefully assemble and protest are a fundamental part of any democracy; empowering people to have their voices heard, in addition to holding the Government to account. These rights are universal –they protect peaceful and legitimate protest whatever the cause."The events at the Clapham vigil and at demonstrations over the last few weeks are a dangerous indication of what the future of protest will look like if the police powers bill gets through parliament."
A local campaigner, a mother and grandmother said "We are in the process of losing a fundamental part of our democracy, It is important we protect it for future generations. We have messed up so much of their future already-we need to hold the Government to account".
Aspects of the Bill include:
The power for Police forces to shut down protests that they deem too disruptive at their own discretion.
Up to a 10-year sentence for demonstrators considered to be causing a "public nuisance".
The power for police forces to impose start and end times on static protests of any size.
The power to expand stop and search powers, which already discriminate against marginalised communities. If you live in the Dyfed Powys police area, you are 5 times more likely to be stopped and searched if you are black than white.
Up to 10-year sentences for damage to public monuments' Police powers will be expanded and custodial sentences increased to "protect" women.
These measures are not sufficient to prevent violence and are troubling, considering some police officers' involvement in cases of violence against women. Significant restrictions on where protests around Parliament may take place.
The elevation of trespass from a civil offence to a criminal offence, meaning police and courts can give harsh sentences to Travellers.
Increased power of police to seize vehicles and homes from Gypsy, Roma, and Traveller communities and demanding proof of permission to travel.
The bill will criminalise a way of life for these communities.
Some of the proposals in the new bill which is the subject of the protest include putting start and finish times on protests, as well as noise limits. The bill also says damage to memorials could lead to up to 10 years in prison. The bill could also expand stop-and-search powers and includes an offence of "intentionally or recklessly causing public nuisance," which is designed to stop people occupying public spaces and doing things like hanging off bridges or gluing themselves to windows.
The bill will be reintroduced to Parliament after the Queen's Speech, according to the Home Office, with Commons Committee Stage expected to be completed by 24 June.
"The Police, Crime, Sentencing and Courts Bill delivers on the government's commitment to crack down on crime and build safer communities," a Home Office spokesperson says. "We are equipping the police with the tools they need to stop violent criminals in their tracks." They add that the bill "enshrines our commitment to those brave officers who put themselves in danger to keep rest of us safe into law".
One protestor told Herald.Wales: "People are getting more angry and more frustrated and they feel like their issues are not being dealt with – but are rather just simply being cracked down on.
"And that is the wrong approach. People are still going to take to the streets and be even more passionate."
Protests – a senior police officer's view
A police boss who describes himself as an "experienced protester" says a report on how protests are policed is one sided, illiberal and undermines civil and political rights.
North Wales Police and Crime Commissioner Arfon Jones is so concerned that he has written to Home Secretary Priti Patel to complain about it.
The UK Government used the report by Her Majesty's Inspectorate of Constabulary, Fire and Rescue Service (HMICFRS),"Getting the balance right?, when they were drafting the controversial Police, Crime, Sentencing and Courts Bill.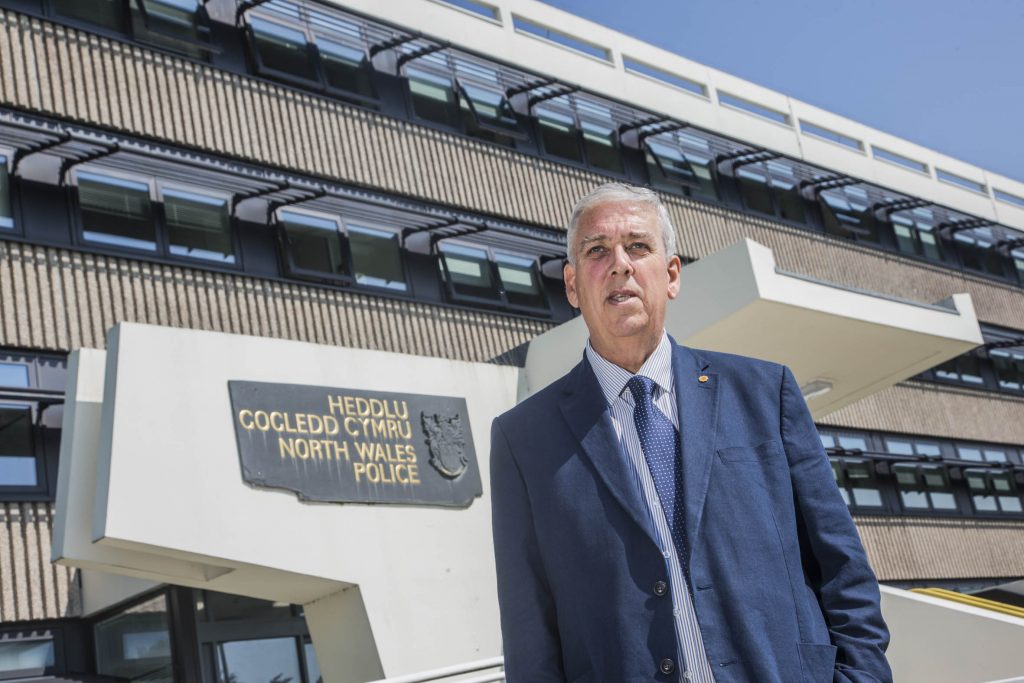 According to the inspectors, the balance had tipped too heavily in favour of protesters.
The legislation will give the police powers to set start and end times for static protests and stop protests if they are judged to be too noisy or too "disruptive".
Protesters face fines of up to £2,500 and up to 10 years in jail if they are convicted.
Mr Jones, a former police inspector, said: "Although equilibrium should be struck between individual rights to protest and the general interests of the community, I simply do not agree the balance tips too readily in favour of protestors.
"The recommendations in the report are one sided, illiberal and undermine civil and political rights and are not in the public interest.
"The new powers in the proposed act are not necessary and will prevent protest as we know today. The whole purpose of protest is to disrupt and to seek change.
"The police have enough powers to police protests and do not need more. I do not believe that HMICFRS have the balance right in this report and as an *experienced* protestor for the last 50 years the perception that police are favourable towards protestors rights is a fallacy.
"Policing protests has always been, and always will be, a tool of the state to control its citizens and I will have no truck with it.
"Automatic Facial Recognition in non-violent protests is a privacy intrusion and should not be used.
"Non-violent protests should be policed as events not as a public order exercise.
"The Police, Crime, Sentencing and Courts Bill will afford new powers to officers to tackle protests, including measures aimed at static protests and a new offence of 'intentionally or recklessly causing public nuisance', which is in part defined as causing 'serious annoyance' or 'serious inconvenience'.
"In a democracy the right to protest sometimes means people are inconvenienced, such is the price of living in a society where voicing support for a cause of your choosing is permitted. "These proposals seek to whittle that right down to such a degree that any demonstration, large or small, may be heavily restricted or even curtailed altogether. The effect on free expression will be substantial.
"The report is short-term and politically driven. Policing should be very careful not to be drawn into the situation of being arbiters of which protests can go ahead and become stuck in the middle.
"The policing of industrial action in the 1970s reminds us that policing protests may cause long-term damage on the relationships between community and police.
"The United Kingdom and its people have been through a very difficult year, with exceptional Covid-19 restrictions coming to an end as the pandemic recedes.
"This is a time for reflection and consideration, not a time to be rushing through poorly thought out measures to impose disproportionate controls on free expression.
"Such laws may shield ministers and corporations from public dissent, but who would wish to live in a society where such matters are guiding principles of legislation?"
Approval recommended for dockyard plans
A CONTROVERSIAL plan to develop part of Pembroke Dock's Royal Dockyard comes before the County Council's Planning Committee next week.
Despite many objections from heritage organisations, Council planning officers recommend the development's approval.
However, the Planning Committee will only indicate whether it is 'minded to approve' the proposal instead of giving it the go-ahead.
The Welsh Government has called in the application for decision by the next Welsh Government minister responsible for planning and infrastructure developments.
That means the Welsh Government will consider the Report presented to the Committee and weigh it against the objections received.
HERITAGE ASSETS VERSUSECONOMIC DEVELOPMENT
The application is to develop a brownfield site within the former Royal Dockyard.
It seeks outline planning permission for the demolition or part demolition and infill of various buildings and structures, modification of existing slipways, erection of buildings and ancillary development. 
The development is intended for port-related activities, including the manufacture of marine energy devices, boat manufacture, repair and erection of plant.
The application is for outline planning permission. All matters relating to access, appearance, landscaping, layout, and scale are reserved for consideration as part of reserved matters applications. In practice, as many councils – including Pembrokeshire – have discovered, once outline planning is granted, reserved applications tend to proceed despite potential negative impacts.
A similar situation arose with Milford Haven Port Authority's hotel development at Milford Marina, where councillors' concerns were largely overruled by the existence of outline planning permission for the development.
Part of the proposal would see the former graving dock and timber pond infilled, the part demolition of existing slipways, and some buildings on site.
Both the graving dock and timber pond are Grade II listed. Buildings near the development are also listed, including the iconic Sunderland flying boat hangars.
The existing caisson gate currently in situ at the dock's southern end would be removed and conserved. It is unique in Wales and a rare example. The planning report states that the caisson gate would remain within the marine environment without development and deteriorate. 
The development would include a new 'super slipway' built over the land extending into the River Cleddau and the construction of massive new industrial sheds to accommodate new marine technology.
JOBS AND THE CITY DEAL
The planning report claims the facilities erected will support anywhere between 288 and 975 full-time equivalent jobs in Pembrokeshire and make a substantial contribution to the local economy. However, the report also notes that the numbers of jobs claimed cannot be corroborated.
This proposal is linked to the establishment of the Marine Energy Test Areas (META), the Marine Energy Engineering Centre of Excellence (MEECE) and the Pembrokeshire Demonstration Zone (PDZ). These collectively comprise the Pembroke Dock Marine (PDM) project. 
The project forms part of the Swansea Bay City Deal to facilitate the next generation of marine renewable energy technology.
Companies who could potentially gain from the development have signalled their support from the proposal.Although their enthusiasm is predictable, the economic potential for local businesses cannot be ignored.
DOCKYARD ESSENTIAL TO TOWN'S EXISTENCE
However, a raft of objections also exists.
The Council received representations from, among others: The Victorian Society; The Georgian Group; Hywel Dda University Health Board;  Pembroke Dock Heritage Centre; Pembrokeshire Historic Buildings Trust; Pembroke Civic Trust; Naval Dockyards Society; The Commodore Trust; Ridgway History Group.
Not all of those organisations objected to the principle of development. For example, Hywel Dda expressed concern about the potential effect on access to South Pembs Hospital and patient care. However, most criticised the impact on the historic environment of the Royal Dockyard. Individual objections also expressed the same concerns.
The Naval Dockyard Society points out that the Dockyard construction was the reason for Pembroke Dock's creation as a town. Without it, the town would not exist.
The Society continues: 'The proposed scheme would severely damage Pembroke Dock Conservation Area and crucial listed buildings. 
'The Grade II* Graving Dock would be infilled and partially built over, the Grade II Timber Pond infilled and built over, and the Grade II Building Slips Nos 1 and 2 partially demolished and removed. It would also be detrimental to the adjacent Grade II Carr Jetty setting, which adds to the group value of these threatened structures at Pembroke Dockyard.
'These structures are the last and most important features of the magnificent and unique assemblage of thirteen slips, graving dock and timber pond constructed and functioning 1809–1926. 
'Pembroke Dock specialised in building warships during the transition from wood to iron and steel, sail to steam and turbines. 
'While the eastern slips were sacrificed in 1979 for the Irish ferry terminal and the deep-water berth Quay 1, we now live in a more responsible era, when significant community assets merit planning protection.
'The Royal Dockyard established at Pembroke Dock from 1809 was unique: the only one in Wales, the only one on the west coast of Britain, and the only one created solely as a shipbuilding facility. 
'It built over 260 warships for the Royal Navy, including many of the most prestigious warships of the nineteenth and early twentieth centuries, as well as five royal yachts. Many of these vessels were built on the two large slipways at the western end of the yard threatened by the current development proposal'.

THE COMMUNITY'S VIEW
William Gannon represents Pembroke Dock Town Council on the Milford Haven Port Authority. Mr Gannon recently hosted an online event that reviewed the application and gave local people the chance to express their views.
We asked him what the public had to say about the plans.
William Gannon told us: "The feeling of the Community following our Zoom Meeting was that we welcome the 1800 jobs and the £63 Million of investment that the Pembroke Dock Marine Project has promised. 
"However, the Community is concerned about the Pickling Pond and The Graving Dock's loss, which will be buried beneath the new slipway. Both The Pickling Pond and The Graving Dock are Grade 2 Star listed heritage assets.
"The Community are also concerned about the size of the two 'super sheds' that may be built. It is felt that these sheds are both too large and ugly, and they will damage the appearance of the Dockyard and The Haven and could damage Pembroke Docks plans to develop Tourism in and around the Dockyard.
"Our Community is looking to strike a balance between the need to develop the Dockyard and to preserve our Heritage Assets. 
"We believe that we can do this by working with The Port to develop a solution that allows for both."
The Port Authority plans to infill the dock and pond in such a way as to preserve the structures and excavate them in the future. Once they are built over, however, the circumstances that would be possible or even likely are unclear. 
The Port Authority also proposes to use digital media to provide an 'augmented reality' experience to show visitors what the Royal Dockyard looked like before its development.
The Port says that part of the land, the Carriage Drive, would be enhanced and restored under its plans for the site.
The balance between preserving heritage and creating future jobs in one of its pet project areas is one the Welsh Government will wrestle with on this application and others.
Primary school teacher would 'moan' as he touched female pupils, court hears
A HAVERFORDWEST primary school teacher would "moan" while he touched his female pupils in a sexual way, a witness said in Swansea Crown Court.
In total, 11 former pupils, who were all under 13, have come forward and accused James Oulton, 34, of sexually assaulting them.
Oulton denies all the charges – saying the case was a "witch-hunt" and that he had behaved appropriately all times.
One of the pupils, who was in year four at the time, opened day four of the trial by giving evidence via a video link.
The girl told the court: "He would put his arm around by back and backside."
Under cross examination Chris Clee QC, for the defence, asked the witness: "Did you tell the police that you were touched in an inappropriate way?"
The witness answered: "Yes, teachers should not be touching in that way."
Asked if what he was doing wrong, the witness replied:
"Yes, very wrong"
In cross examination letters and cards were produced, made the witness whilst in school, where she had said Mr. James Oulton was "the best teacher in the whole world."
One of the cards said: "You've made my life complete".
Another card said: "Thank you for being so nice, and thanks for everything that you've done for me."
The witness added: "Despite what he did do, he was a good teacher.
"He used to buy us treats.
"He was nice caring and a sweet and fun teacher – but not what he was doing.
Referring to the cards, she said: "I would definitely not be saying that stuff now."
Explaining how she told her parents the witness said: "Once I realised that [x] was in his class, I asked her 'did he do this stuff to you?'
"She said yes.
"I realised more and more it was wrong and it was time to grow up now, and to speak.
"As soon as I found out that this was happening to [x] I stood up and told my parents.
Asked if she had seen inappropriate behaviour happening to anybody else the witness answered: "He did it to most of the girls in the class, but he had his favourites.
Asked if she had spoken to other girls about the touching, the witness said: "Yes, I was just curious was it just me, or was it normal?"
"Teachers should most definitely not be doing that to students.
"Doing what?", the witness was asked, "You said in your police interview that he would pull you off your chair and make you sit on his lap, is that true?"
"Yes," was the reply.
"Did you try and stop him?" she was asked.
"Yes, I tried to push him off sometimes and said, 'get off its weird', but I didn't want to make a scene.
"He would make me sit on his lap whilst he was marking my work."
When asked by the defence barrister how she was sat on her teacher's lap, and if it was under a desk, the witness answered: "No, not under the desk, as both of our legs wouldn't fit under."
The witness also said that when she was sat on the defendant's knee he would make "a low grunting noise."
Asked if she had spoken others about this case, the girl said: "Police told my mum and dad that there were very many people involved in the case.
"I thought it was just me and [x] that was going to be at court, I only recently discovered that others had come out."
A second female pupil was also giving evidence via video link. She was 9-years-old at the time of the alleged offending.
Firstly, a pre-recorded interview was played in court in which the witness said: "My teacher, Mr. Oulton always put his hand up my leg like that and up my t-shirt."
She added: "If he calls you over and he pulls you onto his lap, if you don't, he pulls your chair over and makes you."
"How would he make you?" the QC asked.
"He would grab your arm, push you, and then pull you in", she replied.
When asked if this was a one off, the witness said that the defendant "did it every day."
"How would you be sat on his lap?", she was asked.
"He would have one arm on my stomach, then the other arm would be rubbing my leg."
"He would swap arms and then put one arm up my t-shirt."
When asked to clarify if it was under her t-shirt the girl explained: "Yes it was under my t-shirt rubbing his hands up and down."
The witness added: "If I tried to get up for work, he would just grab my arm."
"He would make a funny sound like a hissing airplane."
"We had a helper in the class, and when he came in, he would stop, and then I could go and sit down."
The trial continues.