Yale to unlock students' potential
​THIS summer, 16 of Wales' brightest sixth-formers will join students from across the world for a life-changing summer programme held at one of the world's most prestigious academic institutions.​​
The pupils, all part of the Seren Network, will join over 1500 other students from 126 countries and 50 US states on Yale's Young Global Scholars Programme (YYGS), at Yale University's New Haven campus in the US, as part a new scholarship opportunity made possible through the Seren Network.
Education Secretary, Kirsty Williams, will join the first group of pupils from Wales to travel to Yale's New Haven campus as she looks to build on links already made with the university through Seren.
The Education Secretary will also travel to both Harvard University and MIT in Boston to discuss new opportunities and collaborations.
This opportunity has been made available to Welsh students thanks to a jointly funded scholarship between Yale Young Global Scholars (YYGS) and the Welsh Government. The flight costs have been supported through sponsorship by businesses in Wales who are all rooting for the Welsh students.
The students will each spend two weeks at Yale's New Haven campus, where they will take part in a rigorous academic programme led by world-leading academics in one of six areas, including International Affairs & Security, Frontiers of Science & Technology and Politics, Law & Economics.
The partnership has been established to broaden the academic horizons of Welsh students, giving them a taste of university life in the States and the opportunity to make strong university applications when they return.
Kirsty Williams said: "It is a huge success story for Seren that we've been able to broker a partnership which will see Yale's renowned Young Global Scholars programme made accessible to students across Wales.
"I'm proud to be joining our first ever group of students to take part in this life-changing summer programme and look forward to making new links with other universities as we try to open new doors for many more of our students.
"I want every pupil in every school in every part of Wales to know that if you work hard then no academic opportunity is off-limits. I think this is a perfect example of what is possible and I want to thank all the sponsors involved in making this happen."
This partnership has been made possible through Liam Rahman, a Yale University alumnus born and raised in Carmarthenshire. A Co-Director at E-Qual Recruitment Education in Cardiff and West Wales, Liam is an avid supporter of The Seren Network and has been the driving force throughout the partnership. E-Qual Recruitment Education is a headline sponsor of the partnership, having raised in excess of £10,000 to fund the cost of students' flights to and from the US.
Liam said: "Since returning to Wales last year, it's been a real privilege to work with high potential Welsh students through the Seren Network and to be an interviewer for Yale's Undergraduate Admissions Office in Wales through Yale's Alumni Schools Committee.
"Over the past few months, I've worked to build the relationship between Yale Young Global Scholars and The Seren Network, which has culminated in this fantastic partnership and scholarship opportunity.
"This scholarship will deliver life-changing opportunities to some of Wales's brightest sixth formers and gives Yale the opportunity to access some of Wales's very best talent."
New Director joins the Open University in Wales
ON NOVEMBER 27, The Open University in Wales welcomed Ben Lewis as its new Director.
Ben joins the OU in Wales from Cardiff University where he was Director of Student Life. He succeeds Louise Casella who retired in June.
David Price had been the OU in Wales' Interim Director until Ben's arrival.
Ben Lewis said: "The Open University is synonymous with the idea of lifelong learning. At its heart is the belief that education should be available to people wherever they are, and whatever their circumstances. It's an exciting time to be joining the OU in Wales – our student numbers have never been higher, with government and decision makers recognising the value of part-time flexible higher education.
"I thank David Price for his stewardship during the interim period, and for the welcome I've received from colleagues, students and stakeholders. It's a privilege to be joining this team, and I look forward to playing my part in the next steps of the university's future."
President of The Open University Student's Association (OUSA), Swansea-based Margaret Greenaway added:
"We want students to have a say in how their university is run, regardless of their background or where they live. We're proud of the positive relationship OUSA has with the OU in Wales, and we're sure this will continue during Ben's time as Director. A big welcome to him to the OU family!"
Pembrokeshire school devastated by fire unlikely to reopen before September 2025
A PEMBROKESHIRE school, devastated by fire just over a year ago, is unlikely to see pupils back at their desks before September 2025, councillors heard.
Manorbier Church in Wales VC School and its adjoining schoolhouse was severely damaged by a fire on October 11 of last year, which broke out in the school roof space.
Pupils and staff were successfully evacuated with no injuries, and a 'school from school' was set up in Jameston Village Hall, after a brief period of sanctuary at the nearby Buttyland caravan site.
Members of the council's schools and learning overview and scrutiny committee, meeting on November 23, heard an update on works to rebuild the school and adjoining schoolhouse.
Director of Education Steven Richards-Downes said works to reinstate the building had commenced after 'in principle' decisions by the council's Cabinet, hampered by "the complexities of ownership around the building and adjoining school house," both owned by the Diocese of St Davids.
He said a phased approach to reinstate the buildings started with preliminary works – now completed – starting in early October, with second phase works, through the diocese and its insurers, expected to be finished by the end of the year, before being handed back to the council for the third phase.
Councillor Alistair Cameron asked when the pupils could return to the rebuilt school, a September 2024 date having previously been mooted, Mr Richard-Downes saying it was "unlikely to be September 2024".
Councillor David Howlett said an item from an earlier committee report, which stated surplus spaces at the school had risen from just under 55 per cent to 72 per cent from 2022-'23, describing the figures as "stark," adding: "If that continues it paints a very worrying picture".
He was told there was no evidence of any significant change as a result of the fire; with families moving in as a result of a nearby housing development expected to increase numbers.
Local member, Cllr Phil Kidney thanked officers for their work, adding he hoped two new housing developments in the area would bolster school numbers.
On the subject of the school reopening, he said: "It's not going to be 2024 to be honest, we're looking more like September 2025; I cannot impress enough the importance that the school has in the community, we've lost a shop and one of the pubs is closed in the winter.
"The staff there are so devoted, there's no question about the level of teaching the children are receiving, they go to Greenhill [comprehensive] they flourish."
He said it was important the school was kept to the fore: "If we can just ask you to keep this on the agenda and keep it in the headlines so Manorbier is not forgotten."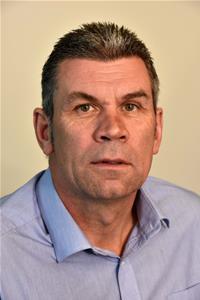 Rev John Cecil of the diocese said the school, due to be inspected next week, was "exceptionally well run under very difficult circumstances," adding there was "certainly a desire to work with [the council] and see that school reopened".
Cllr Kidney was the last to speak on the update, saying parents were "obviously anxious" about the timescale for works, adding: "But now there is some scaffolding coming out of the ground they're confident something is going to happen, it all seems to be going the right way."
Excellent progress on construction of new Welsh medium primary school
A CELEBRATION event was held on the site of the new Ysgol Gymraeg Bro Penfro in Pembroke on Tuesday 14th November to mark the reaching of the highest point of the building, traditionally known as the 'topping-out' ceremony.
The event was hosted by Morgan Sindall Construction & Infrastructure Ltd and attended by pupils and staff from Ysgol Gelli Aur, the Executive Headteacher of the new school, governors of the Temporary Governing Body of Ysgol Bro Penfro, Cabinet members, senior Council officers, and a members of the project team.
Pembrokeshire County Council's Cabinet Member for Education and the Welsh Language, Cllr Guy Woodham, said that he was extremely pleased with progress at the site.
"Whilst I was unfortunately unable to attend the ceremony, my Cabinet colleagues have shared with me their experience, and the excellent progress being made on the new school.
"I am particularly pleased that the project remains on budget, and on programme, which means that Ysgol Gymraeg Bro Penfro will be in a position to admit pupils in September 2024."
Members of the school's Temporary Governing Body expressed their delight with the building.
The Executive Headteacher of Ysgol Bro Penfro, Mr Dafydd Hughes, confirmed that pupils and staff thoroughly enjoyed the event and that everyone connected with the school is excited at the prospect of moving to the new school next year.
"The fact that a new Welsh medium primary school is being built in Pembroke is an important and exciting development on so many levels.
"As Executive Headteacher of Ysgol Bro Penfro I am committed to ensure that when the school opens its doors in September 2024 every pupil will be given opportunities to flourish and thrive in a welcoming Welsh medium setting. I am also focused on ensuring that the whole Pembroke community takes great pride in the school."
Pupils were very excited to see the new school. Among the comments received were: "We loved signing the steels, it will help us to remember when we came here when our school was being built and we will always be a part of our new school"
"I can see that everyone is working really hard to build us our school. The school is so much bigger than we expected and can't wait to start learning in our new classes".
The project is being funded by Welsh Government and Pembrokeshire County Council, and will provide a significant contribution to the Council's Welsh in Education Strategic Plan.